While it depends on what kind of college you attend — public or private, in-state vs. not — the cost of college isn't cheap. Using research for the Education Data Initiative, we put the cost of college into perspective to understand how much a college education costs students today.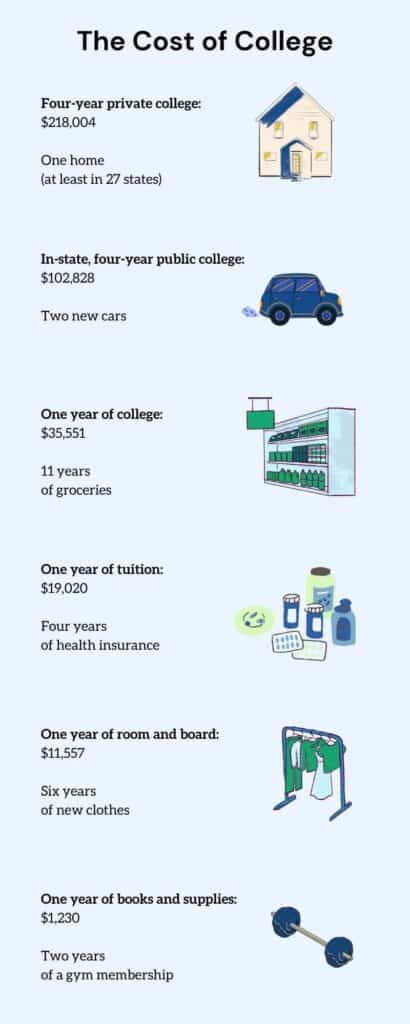 Sources:
How to Afford the Cost of College
As the total cost of college can be hundreds of thousands of dollars, what can students and their families do to help shoulder the cost? We spoke to college finance experts to get their advice.
>>MORE: To Ensure an ROI on Their Education, College Students Prioritize Practical Majors and Hard Skills
Start Saving Early
A student isn't going to know where they want to go to school when they're a toddler, but parents can lessen the prospective financial burden by starting to save when their future scholar is still in diapers.
"Base your college savings goal on the full cost of a 4-year college education the year the student was born," says Mark Kantrowitz, a nationally-recognized expert on student financial aid, scholarships, student loans, college savings plans and education tax benefits. "For a child born this year, that works out to be $300/month for an in-state public 4-year college, $500 for an out-of-state public 4-year college and $650/month for a private 4-year college. If you start saving from birth, a third of your savings goal will come from earnings. If you wait until the student enters high school, less than 10% of the savings goal will come from earnings, and you'll have to save six times as much per month to reach the same college savings goal. It is cheaper to save than to borrow. Every dollar you save is a dollar less you'll have to borrow."
Look for Scholarships
James Lewis, president of the National Society of High School Scholars, recommends applying for all kinds of scholarships and as many as possible.
"Believe it or not, there are scholarships out there just for being tall… or left-handed … or vegetarian," he says. "Beyond tapping local community resources, religious organizations, employer programs, and advocacy groups, students can find national programs by putting their talents or special interest keywords into search engines along with the word 'scholarship.' The more scholarships one applies for, the greater their chances of earning those dollars. And the smaller, less competitive awards can really add up."
There are tons of free scholarship-matching websites out there. Kantrowitz recommends starting with Fastweb.com and the College Board's BigFuture.
Take Advantage of Ways for Others to Pay
Beyond scholarships, there are a few other ways to help you find others to pay for the cost of college:
Look for employers who offer tuition assistance. "If you can find a job in a field that interests you, attend college part time while earning an income, and get part of your tuition expenses reimbursed, you could wind up with a degree that doesn't break the bank," says Patricia Roberts, Chief Operating Officer at Gift of College, Inc.
Take college-level courses in high school. Reduce the number of courses you need to take for college graduation by getting credits in high school. Be sure to research the options your high school provides and what credits the schools you're considering accept.
Consider career-specific reimbursement. "Take advantage of early career options where federal, state, or local governments will reimburse your loans or pay for your schooling in exchange for working in a specific location, in a specific profession, or for a specific organization," says Mark Salisbury, CEO and co-founder of Tuition Fit.
Find your career fit
Discover the right career path for you with a free Forage job simulation.
Remember to Save for Life Post-Grad
Going to college is a great way to learn skills you need to land a career and navigate the professional world. It's also a launching point for a more lucrative career. Sixty percent of current jobs require higher education. People with degrees tend to make more money post-graduation than those whose highest education level is high school. According to the Association of Public and Land-Grant Universities, professionals with a bachelor's degree have earnings $36,000, or 84%, higher than those with high school diplomas.
Still, while paying for college can be a profitable choice in the long run, you don't want to spend all of your money on a degree. Remember to save some money to help you get started after graduation.
"A college education and degree is nothing more (or less) than a means to a greater end (e.g., the start of a successful and gratifying life AFTER college)," Salisbury says. "So don't spend more than you have to spend — especially if you are going to borrow — to get yourself into the next phase of life. As a young adult, you'll need some financial flexibility to take advantage of the opportunities that present themselves. If you spend all your money on college, you won't have any left to actually get your life launched."
Image credit: Canva