Ernst & Young, which operates under the trade name EY, is one of the biggest accounting firms in the U.S. It performs broader professional services for international companies. These services include auditing, assurance, consulting, tax, and investment banking. Considering a career at EY? In this guide, we'll cover:
What Is EY?
EY, formerly known as Ernst & Young, provides various services, including accounting, consulting, law, tax, strategy, and assurance. The company ranks among PwC, KPMG, and Deloitte, as a member of the "Big Four" accounting firms.
The company got its official start In 1989 via a merger between Scotsman Arthur Young and American Alwin Ernst. Since then, EY has grown to over 700 office locations and employs over 284,000 people in more than 150 nations. Its global revenue increased over 7% in 2021 to $40 billion.
EY's mission statement is "building a better working world." The company aims to help its clients navigate business decisions to promote economic growth for the surrounding communities.
>>MORE: Learn about working at PwC.
EY Jobs and Salaries
Even though EY is a top accounting firm, the company offers a variety of competitive career paths, including information technology, consulting, business, and more. Your compensation and trajectory will vary based on your team and position at EY. However, here's what you can typically expect regarding salaries from some of EY's most popular teams.
EY Information Technology Team
EY's information technology team focuses on creating innovative business solutions with artificial intelligence, blockchain, the internet of things, and more. According to Glassdoor, here are the salary estimates for positions on EY's information technology team:
IT Consultants average about $86,600 a year.
Cybersecurity consultants average about $90,000 a year.
Software engineers average about $97,100 a year.
Computer systems analysts average about $158,100 a year.
Information security analysts average about $130,400 a year.
EY Consulting Team
EY's consulting team works with large global companies like Verizon and Coca-Cola on everything from business strategy to human resources and finance functions. According to Glassdoor, here are the salary estimates for a variety of positions in consulting at EY:
Business consultants average about $78,600 a year.
Consultants average about $86,800 a year.
Senior consultants average about $114,00 a year.
Consulting managers average about $150,100 a year.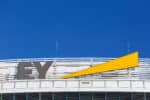 EY Climate Change and Sustainability
Build practical skills and explore working on EY's CCaSS team with this free Forage job simulation.
Avg. Time: 3 to 4 hours
Skills you'll build: Excel, PowerPoint, critical thinking, report development, communication
EY Student Opportunities
Do you want to figure out if a career with EY is right for you or get a jumpstart on your career? EY offers different internship experiences to help students get their foot in the door and learn the ins and outs of specific roles.
Launch Internship: Interested in professional services but not sure which specialty? Rotate through EY's teams to figure out which one suits you best, all while learning valuable skills across a variety of desirable industries.
Client-serving Internship: This internship allows you to work on business and global EY projects, be mentored by an EY employee, and network with professionals.
Information Sessions: Are you curious about an internship or career with EY but have questions before applying? Consider attending one of EY's information events to learn more about its culture.
EY Benefits
Working at EY comes with some substantial benefits. Per Glassdoor, EY employees rated their benefits an average of 4 out of 5 stars. Although there's variation depending on team, position, and time with the company, these are a few of the benefits you can expect from EY as a full-time employee:
Flexible time off: EY's policy on time off is flexible as it notes that "there is no set number of vacation days allotted to each person annually." The company also offers 19 paid holidays. For new parents, EY provides 16 weeks of paid parental weeks.
Mental health support: EY offers its employees up to 25 free counseling visits, referrals, and other mental health resources.
Financial support: On top of 401(k) and pension plan options, EY offers employees financial planning, student loan, and tax preparation resources.
Social impact: EY offers programs to help employees and their surrounding communities connect. For example, the company provides skill-based volunteering and professional networking opportunities.
EY Culture
When deciding to work for a company, it's essential to know its work environment. According to Comparably, EY's culture score ranks 4.3 out of 5 stars based on its employee reviews, and, over the years, it has landed on Glassdoor's Best Places to Work list.
Looking closer, MIT's Culture 500 collected EY employee reviews and analyzed them to discover details about the company's values. Here's what the research found:
The most commonly positively discussed quality was collaboration, which reflects teamwork within the company.
The most frequently reported negatively discussed quality was agility, which reflects how quickly employees can respond to market changes.
EY Initiatives
Companies invest time and money into different initiatives that speak to them. So when considering working at any company, you should agree on where it's allocating time and resources. Here are some of EY's initiatives:
EY Ripples: This initiative focuses on accelerating environmental sustainability. So far, EY employees have devoted over 134,000 hours to the Ripples cause.
EY Connect Day: EY's annual day of volunteering, Connect Day, is about getting employees to dedicate time to the different efforts of the EY Ripples initiative.
NextWave Technology: EY's latest initiative is centered around technological advancement. After the pandemic, the company has focused on shaping how work and business are conducted in the future.
EY vs. Deloitte
EY and Deloitte are two of the four biggest accounting firms in the U.S. According to Indeed, here's how the two powerhouses compare:
EY and Deloitte have overall company ratings of 4 out of 5 stars.
EY and Deloitte are tied in work/life balance, management, and culture.
EY has a better rating in compensation and benefits.
Deloitte has a better rating in job security and advancement.
Sixty-three percent of employees believed they are fairly compensated at Deloitte, compared to 60% of employees at EY.
>>MORE: EY Climate Change and Sustainability Virtual Experience Program
How Does the EY Interview Process Work?
Getting a position at a prestigious Big Four accounting company like EY is very competitive. So here's some information you'll want to know when trying to land a job with EY.
According to Glassdoor, 39% of applicants submitted online applications and 34% of applicants were recruited on their college campuses. Employee referrals make up the third most popular route at 12%.
According to reviews of interviewees' experiences, 72% of interviewees reported a positive experience, and only 10% reported a negative experience. With one being easy and five being hard, the average difficulty of these interviews was 2.9 out of 5 stars.
Learn how to ace any interview with these tips and tricks.
Takeaways
EY is a Big Four accounting firm offering professional services, including law, tax, consulting, and more.
The company offers students career opportunities in accounting, finance, IT, consulting, and more.
Collaboration is the most frequently positively discussed attribute among EY employees, while agility is the most commonly negatively discussed attribute.
Thirty-nine percent of interviewees submitted online applications, and 34% of interviewees came from campus recruiting.
Are you considering other firms besides EY during your job search? Check out Forage's company guides.