PwC is one of the most well-known accounting firms in the U.S. It is the second largest professional services company in terms of revenue. Have you considered working at PwC? We're here to clue you in on what you need to know.
>>MORE: Learn what it's like to work in the Corporate tax department at PwC with this virtual experience.
What Is PwC?
PwC, also known as PricewaterhouseCoopers, offers clients various professional business services, including accounting, auditing, human resources consulting, and strategy management. It is among the "Big Four" professional services firms, alongside Deloitte, Ernst & Young, and KPMG. (Learn if professional services is a good career path.)
The company was formed in 1998 when Price Waterhouse merged with Coopers and Lybrand, though both accounting firms have roots in the mid-1800s.
PwC now employs over 276,000 people in 157 nations. Although founded in London, it has 79 offices in the U.S., including a headquarters in New York City. PwC grossed $45 billion in revenue for the 2021 fiscal year, according to its Global Annual Review.
PwC Jobs and Salaries
As one of the Big Four accounting firms, PwC is well-known among aspiring, future, and current accountants. However, the company offers many other career paths, including finance, business, consulting, and more.
Your wages and career path will vary depending on the team and the position you take at PwC. But here's what you generally can expect in terms of salaries from some of the company's most prominent departments.
PwC Finance and Accounting Team
PwC's accounting and finance teams work to determine its strategy and help clients approach their financials through advisory services. According to Glassdoor, here are the estimated salaries of the finance and accounting teams:
Audit associates average $67,000 a year.
Accountants average about $71,300 a year.
Senior accountants average about $90,500 a year.
Advisory associates average about $103,700 a year.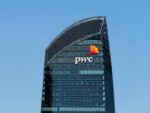 PwC Audit
Tackle an audit case at PwC and learn key accounting skills with this free Forage course.
Avg. Time: 5 to 6 hours
Skills you'll build: Risk analysis, audit planning, balance sheets, income statements, general ledgers
PwC Consulting Team
PwC's consulting team advises clients worldwide — including 84% of Fortune 500 companies — on their business ventures. Consulting services run the gamut, from Human Resources transformation to technology and forensics. According to Glassdoor, here are the estimated salaries for a career in consulting at PwC:
Associate consultants average about $87,100 a year.
Management consultants average about $95,500 a year.
Consultants average about $100,000 a year.
Senior consultants average about $125,300 a year.
PwC Student Opportunities
Do you want to get your foot in the door at a big accounting firm? Fortunately, PwC offers plenty of opportunities to kickstart your career, learn skills, and see if the firm is the place for you.
Career Preview: This program is open to first-year college students/rising sophomores who self-identify as members of traditionally underrepresented minority groups. It's designed to help participants get more acquainted with PwC and the professional services industry in general.
Advance Internships: PwC offers a variety of internships in different departments, which allow access to training and networking events. Per the firm, over 90% of its interns receive full-time offers.
PwC Financial Audit Virtual Work Experience: This free Forage program lets you get a feel for what it's like to take part in a financial audit, no matter where you are in your career journey.
PwC Benefits
PwC offers an extensive list of benefits that cover most full-time employees. While there is some variation depending on your team, position, and time with the company, here are some of the benefits you can generally expect when working at PwC:
Work How You Want: PwC offers fully remote, flexible schedules and in-person positions. Most employees operate in a hybrid environment, spending one-to-three days a week at their office.
Time Off: Depending on how long you have been with the company, you can accrue three weeks to a month of vacation on top of the four extended firm holidays. PwC offers multiple options for time off for new parents as well.
Student Loan Paydown: This unique perk helps eligible employees pay down student loan debt. Each year, PwC will pay up to $1,200 toward a participating employee's student loans, for up to $10,000.
Unique Perks: PwC allows employees to use pre-tax dollars toward transit and parking with its commuter benefits program. The company also offers to pay your phone bill once you become a full-time employee.
PwC Culture
Wondering what working at PwC is like beyond the wages and benefits? In 2022, the company ranked No. 63 on The Fortune 100 Best Companies to Work for list. In 2021, PwC landed on Glassdoor's list of top 100 CEOs, and over the years, it has appeared on the site's Best Places to Work list.
According to Comparably, its overall culture is above average, rated at a "B+" or 4.2 out of 5 stars. MIT's Culture 500 collected employee reviews and pulled out data from the most frequently discussed cultural values. Here's what the study revealed:
The most frequently positively discussed quality was collaboration.
The most commonly reported negatively discussed quality was agility.
PwC Initiatives
When considering a career with any company, you should consider if it invests in initiatives that matter to you. Here are some of the highlights of PwC's initiatives:
Planet Impact: PwC is committed to achieving net zero greenhouse gas emissions by 2030.
Commitment to Diversity: PwC has pledged its commitment to diversity through various initiatives, including working with minority-owned suppliers, organizing mentorship forums for marginalized communities, and creating programs that support veterans.
Community Volunteering: In 2021, the company invested $209 million into its volunteer program, and workers contributed 612,027 hours to their communities.
PwC vs. KPMG
PwC and KPMG are two of the biggest accounting firms in the U.S. According to Indeed, here's how the companies match up:
PwC has 3.9 out of 5 stars in overall ratings, while KPMG rates 4 out of 5 stars.
PwC and KPMG are tied in job security and management ratings.
KPMG has a better rating in work/life balance, compensation and benefits, management, and culture.
Sixty-one percent of employees believed they are fairly compensated at PwC, compared to 62% of employees at KPMG.
See how PwC compares to another "Big Four" competitor: Deloitte.
How Does the PwC Interview Process Work?
Landing a position at a well-known, global company like PwC can be difficult. However, it helps to prepare. Here is some information to know when you apply or interview with PwC.
If you're unsure about how to go about applying for a position, it can be helpful to look to see how past interviewees applied. According to Glassdoor, 51% of applicants submitted online applications and 28% of applicants were recruited on a college campus. Employee referrals were the third most popular recruitment method at 9%.
When asked how their experiences went, 72% of interviewees reported a positive experience, and only 10% reported a negative experience. The average difficulty is at 2.9 out of 5 stars, with one considered easy and five considered hard.
Have an upcoming interview with PwC or another company? Check out these interview tips and tricks.
Takeaways
PwC is a prominent professional services company and one of the Big 4 accounting firms.
On top of career paths in finance, accounting, and consulting, the company also has opportunities for students to get a foot in the door.
Collaboration is the most frequently — and positively — discussed attribute among PwC employees, while agility is the most commonly negatively discussed attribute.
Fifty-one percent of interviewees submitted online applications, and 28% of interviewees came from campus recruiting.
Are you considering multiple firms during your job search? Then, learn more about working at these major global companies.
Image credit: Adriano Ruiz on Unsplash