As you search for an entry-level accounting job, the odds are pretty good that part of your application will require an accountant cover letter. Love them or hate them, the cover letter often helps explain your professional abilities in a way your resume can't and can help the recruiter or hiring manager better understand what you'll bring to the role.
And if you fall into the "hate them" camp, you're in luck! ChatGPT can help you draft an accountant cover letter that explains why you're the right person for the job. But you can't rely on what the bot spits out. You'll need to personalize the rough draft to make it your own.
How to Write an Accountant Cover Letter Using ChatGPT
Using ChatGPT to write your accountant cover letter isn't as easy as telling the bot to whip up a winning cover letter for you — yet! For now, you'll have to do a bit more of the heavy lifting. Here are five steps that can help you draft an accountant cover letter with ChatGPT.
Step 1: Ask ChatGPT to Draft an Accountant Cover Letter
I started by asking ChatGPT to write an accountant cover letter for me. I included some context with the prompt to help ChatGPT structure the output accordingly. This context is essential. Without it, ChatGPT may generate a cover letter that's nowhere near what I want:

Here's what the bot produced: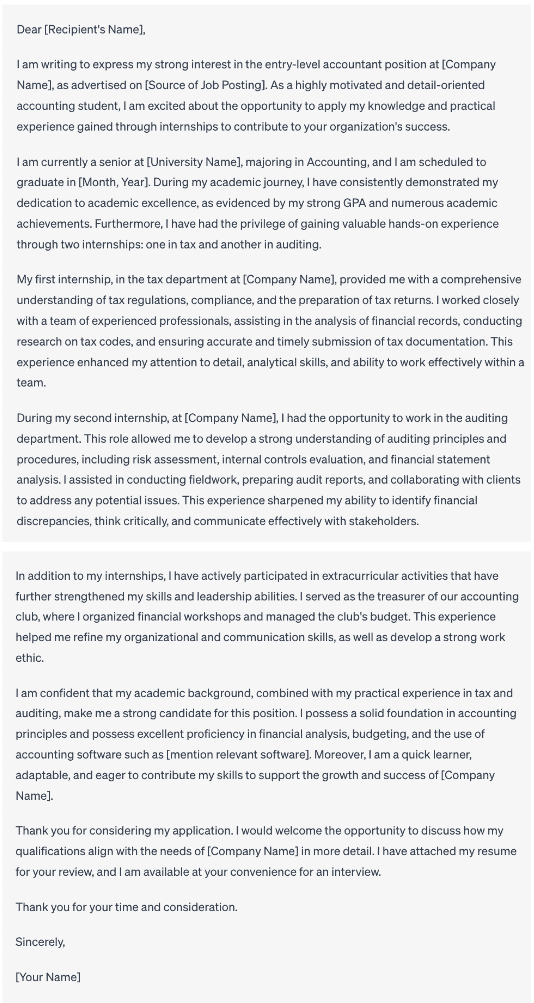 Not bad. ChatGPT does a nice job guessing what I did in my internships since I didn't give it any specifics. It also does a good job explaining what I probably learned. For example, during the tax internship, I …
enhanced my attention to detail, analytical skills, and ability to work effectively within a team.
And thanks to the audit internship, I …
sharpened my ability to identify financial discrepancies, think critically, and communicate effectively with stakeholders.
These are some fantastic transferable skills that will serve me well no matter where I work. And ChatGPT ties the job duties to the skills, even if it's a bit clunky. For example, during the auditing internship, I did fieldwork and prepared reports, which likely contributed to my improved ability to find financial discrepancies.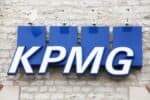 Career Catalyst: Audit
Learn the ins and outs of auditing in this free course. You'll assist in audit planning, evaluate results, and how to confirm results.
Avg. Time: 5-6 hours
Skills you'll build: Critical thinking, audit planning, data visualization, pivot tables
Step 2: Make Things Personal
This accountant cover letter is nothing but hallucinations, but that's OK. As long as I don't submit it as part of my application and instead use it as a model to guide me as I write my cover letter, this example is perfect.
But if I really want to leverage ChatGPT's abilities, I can take my accountant cover letter a step further and ask the bot to write a more personalized cover letter using my accountant resume:

Full disclosure: I am not talking about my personal resume or anyone else's. The resume is an accountant resume I created using ChatGPT.
Here's what I got: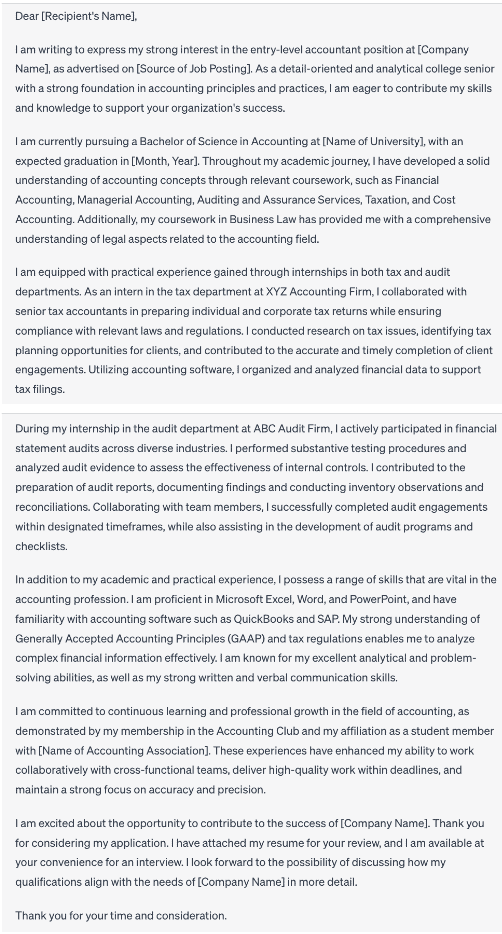 ChatGPT stuck to the resume and did a lovely job summarizing it in cover letter form, which isn't what I want. While explaining parts of a resume in a cover letter is fine (and occasionally necessary), it's better to talk about the things you can't include in your resume because of space but are relevant to the role.
For example, the fifth paragraph is the skills section of the resume in sentence form. Saying, "My understanding of GAAP and tax regulations enables me to analyze complex financial information" is good, but the rest is a waste. You'd be better off talking about a time you used your analytical skills to solve a problem.
>>MORE: How to Choose an Accounting Career Path
Like the first draft, this is a helpful outline I can refer to if I'm having trouble getting started and need to generate some ideas, but I still shouldn't use it as-is to apply for a role.
Step 3: Start Tailoring
Even if ChatGPT produced an outstanding cover letter based on my resume, it would still be pretty generic. The trick to making your application stand out is tailoring it to the specific job you're applying to.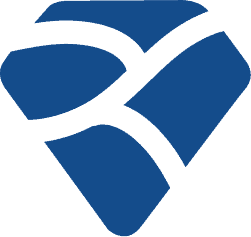 Forage Find
Tailoring your application to the job description means including your skills and experience that are relevant to the role.
And this is another place ChatGPT can help with your accountant cover letter. Add a job posting to the prompt and let ChatGPT generate a more job-specific cover letter for you:

Here's what ChatGPT wrote: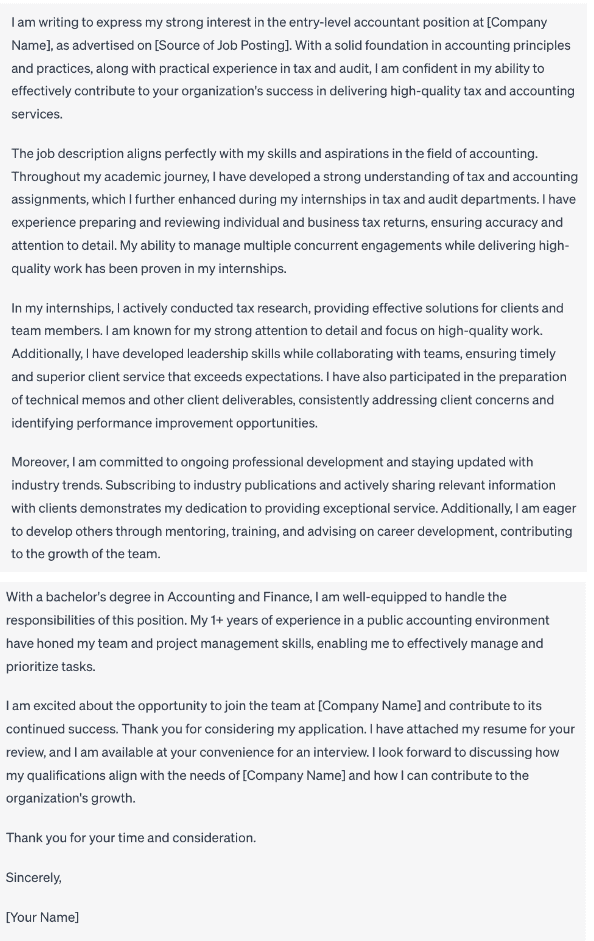 This accountant cover lever does a decent job of explaining that I have the skills the employer is looking for but not as good of a job explaining how I'll use those skills on the job.
>>MORE: What Does an Accountant Do?
For example, the job description says that I'll have to "manage multiple concurrent engagements." This cover letter says, "My ability to manage multiple concurrent engagements while delivering high-quality work has been proven in my internships."
On the one hand, saying "manage multiple concurrent engagements" is a case of ChatGPT parroting back the job posting. However, you could argue that using the same language as the job posting demonstrates I understand and would be a good fit for this company's culture.
On the other hand, if I don't normally speak or write this way, I'm better off using similar language that sounds more like me. For example, "My ability to juggle multiple assignments while delivering top-notch work" says the same thing, but in a way that might be more natural to me.
Word choice aside, the second half of the sentence, "delivering high-quality work has been proven in my internships," is interesting.
The phrasing is strong, confident, and would grab a reader's attention — for the most part. It's written in passive voice and you'd want to edit this to say something like, "I've proven my ability to deliver high-quality work throughout my internships."
>>MORE: How to Get an Accounting Internship (Even if You Don't Have Experience)
But, even that rewrite isn't enough. Nowhere in the cover letter do I provide said proof. Do I have satisfied clients? Metrics that show the impact of that high-quality work? I need to do more than say I deliver high-quality work. I have to show I deliver high-quality work.
Step 4: Get Specific
And this is one of the main problems with ChatGPT or any AI you use for tasks — the output is only as good as the input.
I never gave ChatGPT specific numbers or metrics. And even though I asked the bot to tailor the cover letter to the job description, it stuck with the original draft and the resume, which wasn't enough.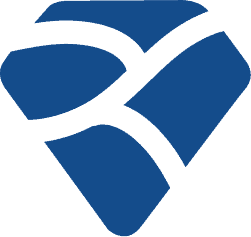 Forage Find
If you're worried about ChatGPT keeping and using your personal data (like specific numbers and metrics) you can opt out by filling out this form.
At this point, I need to provide proof of my abilities. So, I can take this accountant cover letter draft and include specific examples of how I used my skills on the job, or I can have ChatGPT do it for me!
Ideally, the next prompt would include the metrics I want to add. But if you're stuck on what to say or how to say it, ask ChatGPT for ideas: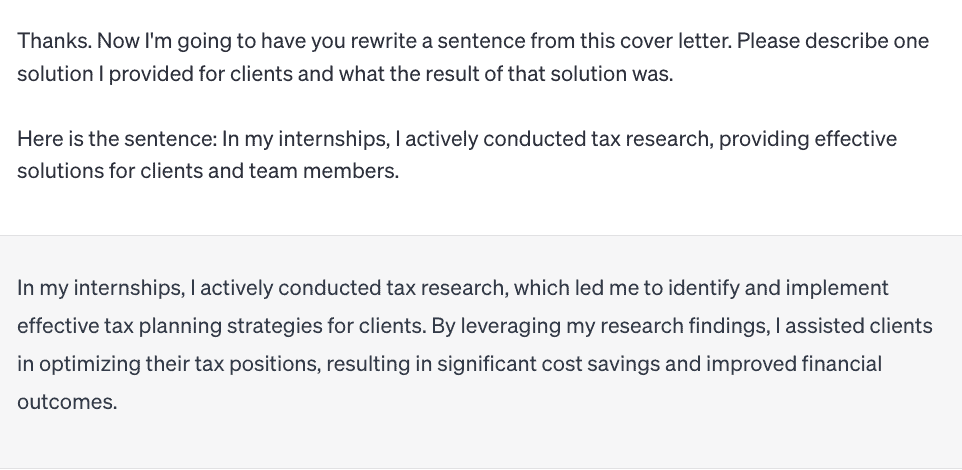 My mistake here was not setting a limit on the output. Previous experiments have shown that when you ask ChatGPT to rewrite something, it tends to be verbose and adds things you neither want nor need.
That said, these two sentences aren't bad. They're not as specific as I'd like, but they are great examples for me to follow and fill in with additional details. For example, if I had done this work, I'd want to state the cost savings (e.g., 50% or $35,000) and the improved financial outcomes (increased cash on hand by 20%).
Step 5: Ask for More but Know When to Quit
Confident ChatGPT understands what I'm looking for, I asked it to rewrite another sentence for me: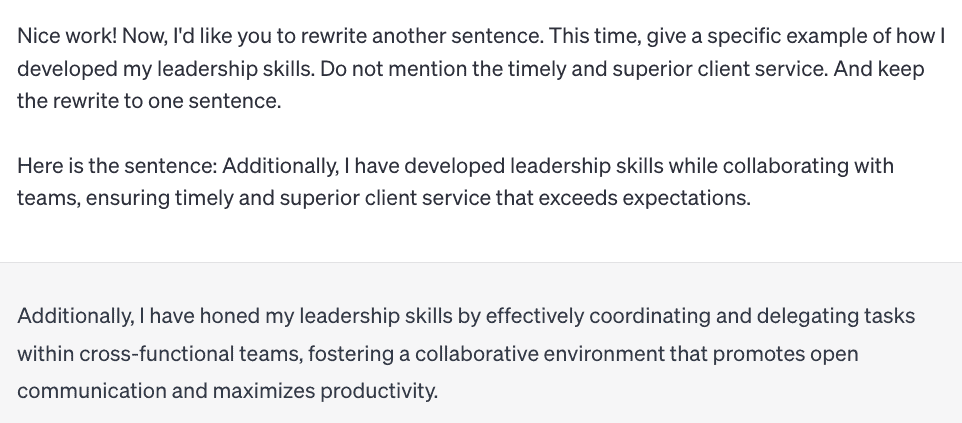 I started with a compliment to let ChatGPT know it was on the right track. And this time, I remembered to limit the output to one sentence. I also asked ChatGPT to eliminate parts of the sentence I didn't want to include.
Unfortunately, this isn't quite what I was looking for. I asked for a specific example of how I developed my leadership skills. Saying I effectively coordinated and delegated tasks is a good start, but that doesn't explain in enough detail.
>>MORE: The Ultimate Guide to Student Leadership Programs (or Pre-Internships)
Ideally, I'd include a concrete example of how I delegate tasks and how that helped me develop as a leader. I might talk about a system I created to keep track of who was in charge of what or how I used specific software to assign tasks. I'd also want to talk about how I decided which task I assigned to whom and what the results were. It might look something like this:
Additionally, I've honed my leadership skills by delegating tasks. Every Monday I'd log into our traffic tracker to see which articles received the least traffic, then analyze the patterns to determine if this was a blip or something bigger. If it was a sustained drop in traffic, I'd assign an update to the original author and include several ideas on how to improve traffic. After three months of this exercise, traffic to rewritten articles increased by 48%.
But I wanted to give ChatGPT another chance:

This is OK but not great. I should have included specific examples of how I developed my leadership skills through collaboration as part of the prompt. But if I'm looking for inspiration, this is a good place to start!
Know the Limits
This is a great example of understanding the limits of how AI can help you write a cover letter, resume, or really anything. ChatGPT's knowledge is limited, and unless you include details and specifics as part of your prompt, your output will be broad and vague.
That's not to say it's totally useless! What ChatGPT can produce for you is often an excellent guide or outline to help you craft an accountant cover letter that grabs a recruiter or hiring manager's interest and helps you land an interview.
Learn other ways to use ChatGPT in your job search:
Image credit: Canva