The saying "time is money" takes on a whole new meaning when you're looking for a job. Searching for a job is a job in and of itself, one you're probably not getting paid for. To help speed up the process, you might consider using LinkedIn Easy Apply. After all, applying to jobs with the click of a button saves a ton of time, right?
While it's true that using LinkedIn Easy Apply might save you time, there could be some disadvantages. That said, you can use LinkedIn Easy Apply to find job search success if you're intentional about it. This guide covers:
Crush the interview
Forage's free job simulations equip you with the skills and experience to speak confidently about the role during interviews.
What Is LinkedIn Easy Apply?
LinkedIn Easy Apply lets you easily apply for jobs. Click the button, answer a few quick questions, and hit submit. While there's a little more to it than that, the idea is to speed up the application process for you and employers.

What Is LinkedIn Apply?
LinkedIn Easy Apply is different from LinkedIn Apply. When you hit the Apply button, you're taken to the employer's website to apply there. When you use Easy Apply, you're applying directly through LinkedIn. Even if you submit the exact same information and documents, it's still a different process.

It's important to note that hitting the Apply button does not give the employer the ability to see your LinkedIn profile if it's set to private. However, depending on the recruiter's LinkedIn subscription, they may be able to see that you started applying.
And you've probably noticed that job postings with either button have a running tally of how many applicants have applied for the role. This figure reflects the number of applicants who have completed the application, not those who clicked the button but never applied.


How Do You Use LinkedIn Easy Apply?
Using LinkedIn Easy Apply is, by design, pretty easy.
Click the button, and a series of pop-up boxes will appear. There's no preset number of boxes, but a counter tells you how much of the application you have left to complete (expressed as a percentage).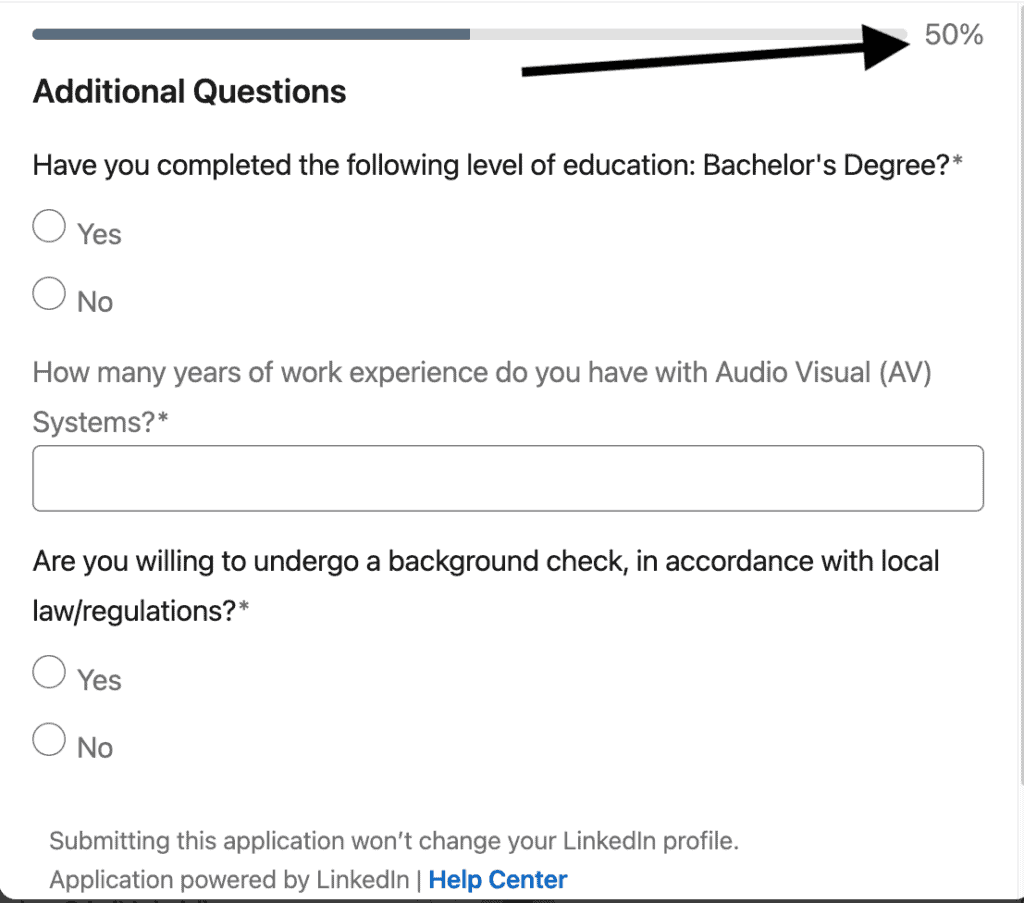 The first pop-up is usually for your name and contact information. After that, it depends!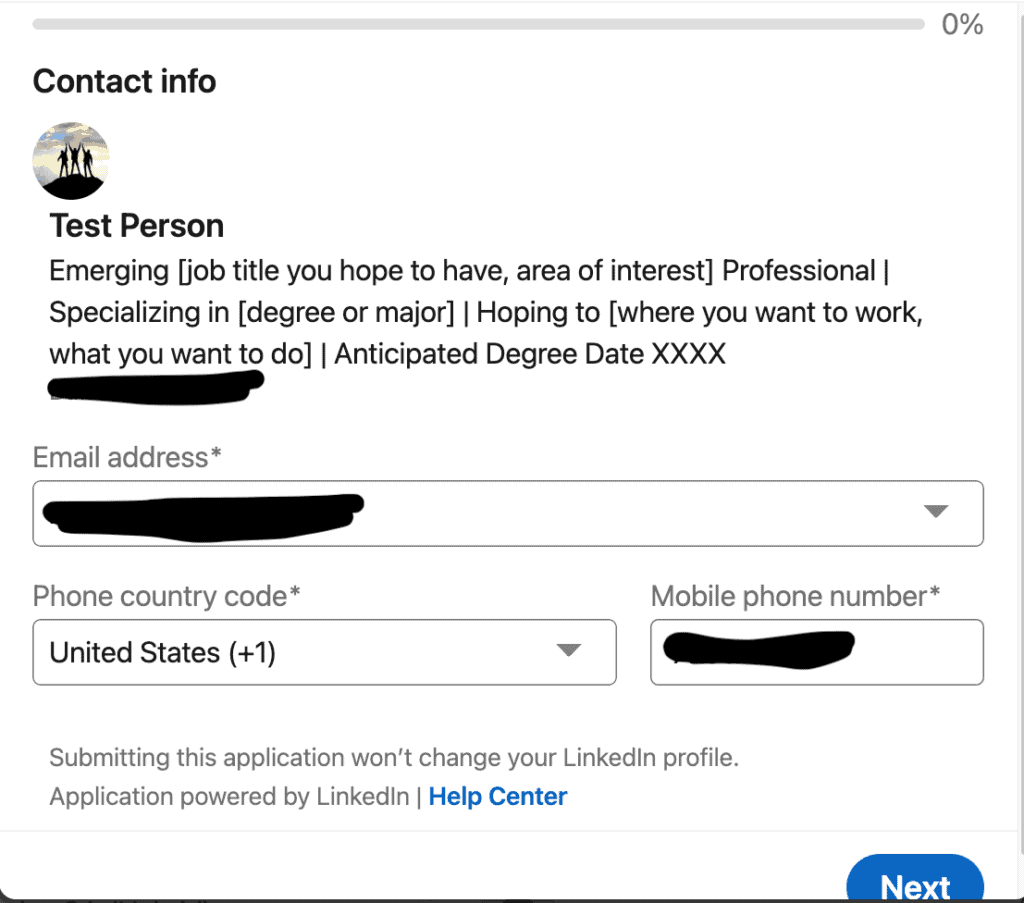 In most cases, the first thing the recruiter asks for is your resume. You can create one using your LinkedIn profile or submit one you've uploaded. After that, there may be a few that ask about the core qualifications for the job. For example, if the job posting says you need a minimum of five years of experience in marketing, one pop-up may ask, "Do you have at least five years of experience in marketing?"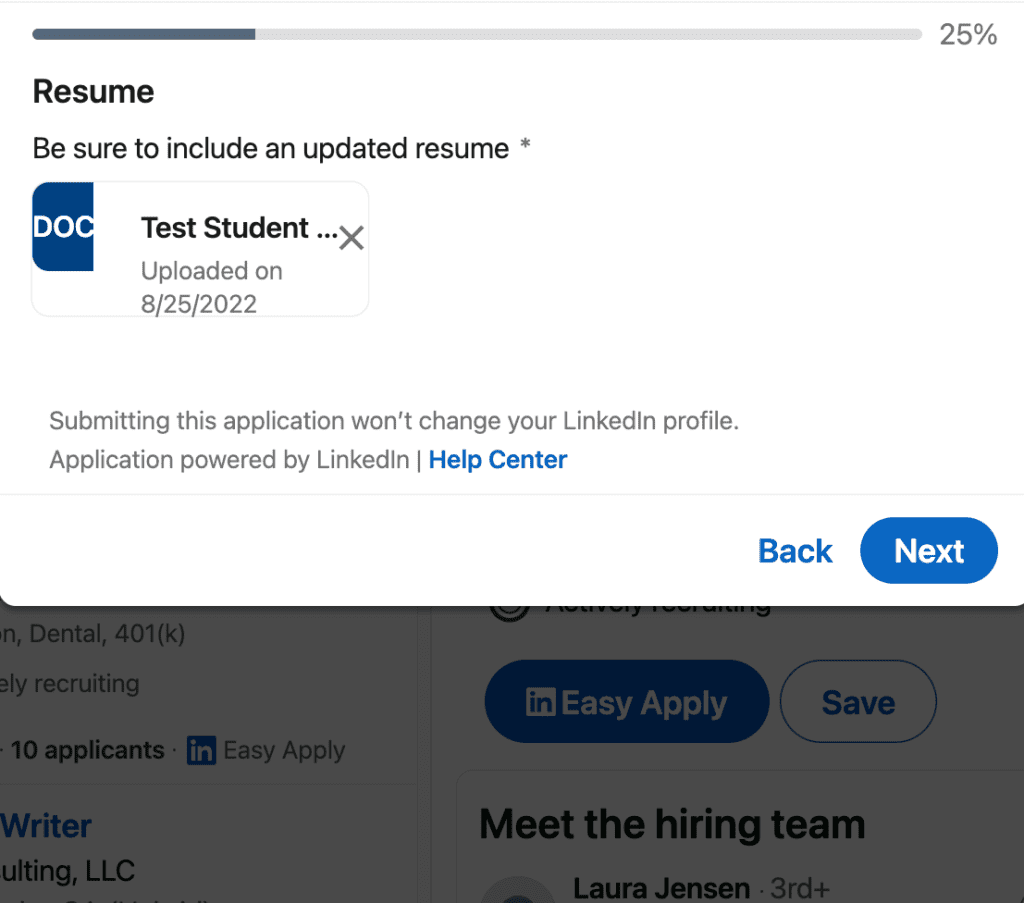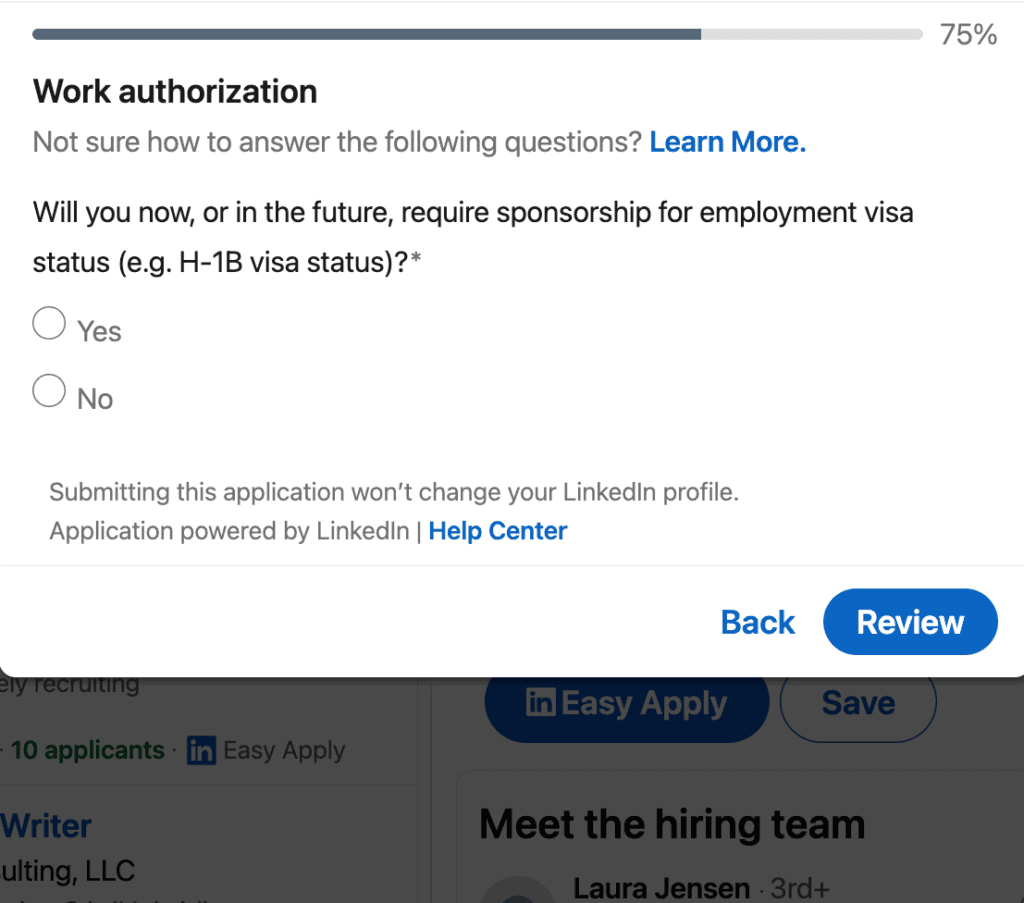 After getting through all of the pop-ups you'll get to the final screen where you can review your answers, go back and change things, then click submit. And that's it! Your application is off to the recruiter.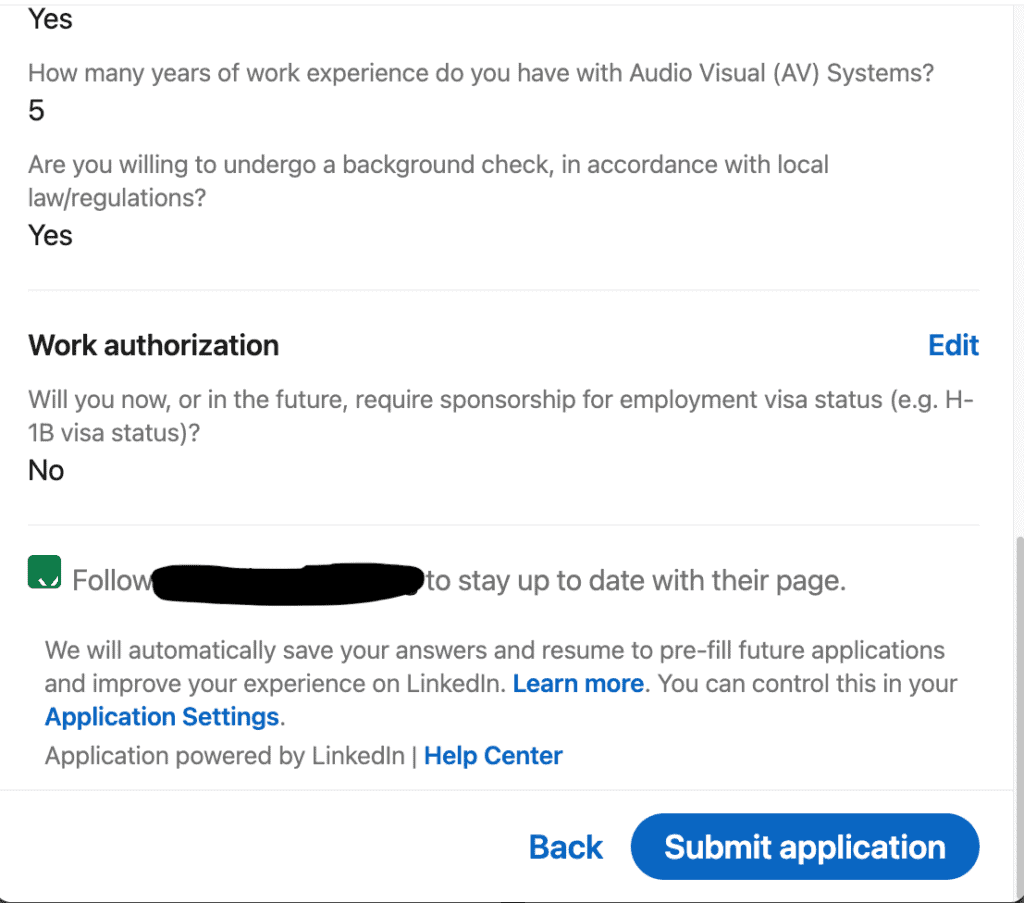 In the event you can't finish your application that day, you can save it and come back later.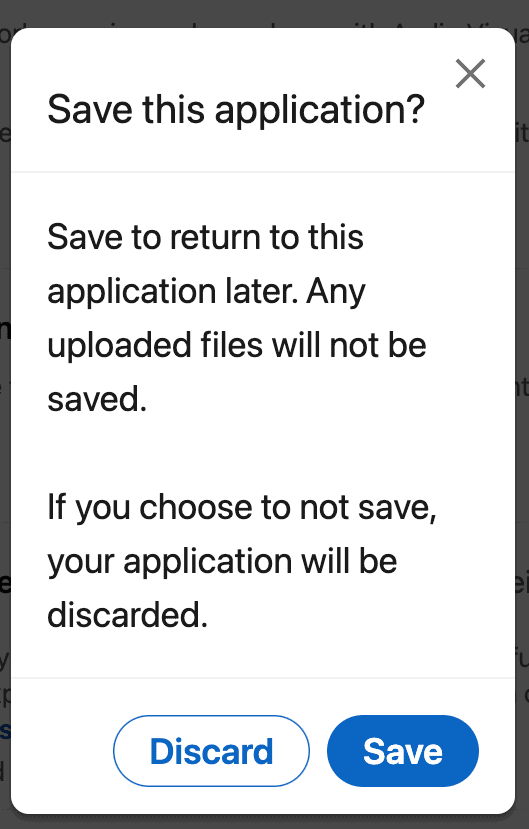 In some cases, though, the first screen that appears is the only one you have to worry about. It asks for your contact information, resume, and that's it! All you have to do is click "submit application" and you're done.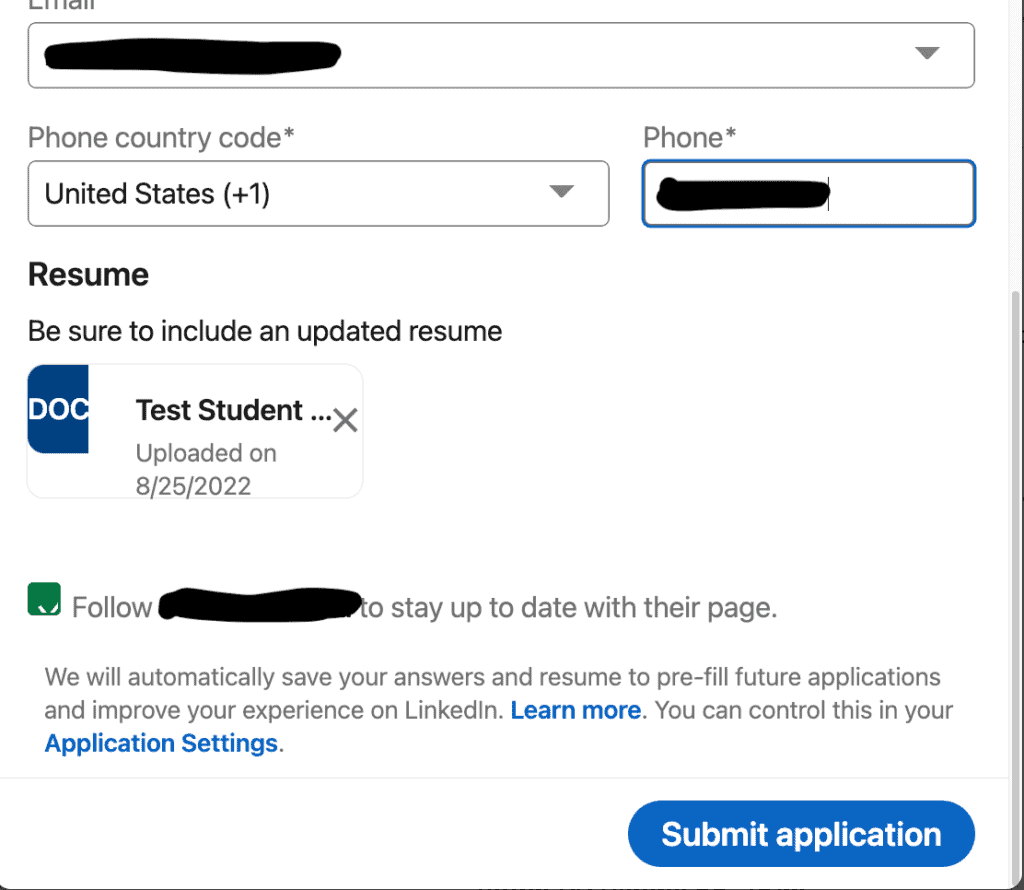 >>MORE: How to Upload or Add Your Resume to LinkedIn
Should You Use LinkedIn Easy Apply?
That's how the process works. But the real question is: Should you use LinkedIn Easy Apply?
An informal Forage poll on LinkedIn found that 38% of recruiters said you should use LinkedIn Easy Apply, while 54% said you shouldn't. Why the mixed results? It may have to do with how recruiters use LinkedIn Easy Apply versus how job seekers use it.
Former Meta university recruiter and former career coach Cidnye Work says that job seekers can use LinkedIn Easy Apply, but how you use it matters.
"Easy Apply can be helpful to speed up the application process and some companies actually set up Easy Apply as their primary and preferred method for candidates to apply! Where folks get it wrong is just clicking on the Easy Apply button to mass apply to hundreds of jobs without being intentional."
In essence, hitting "apply" every time you see a posting you're kind of interested in or are kind of qualified for does you no good. While it seems like you're saving time, in the end, sending tons of applications that never get a response is a bigger waste of time than targeting your job search to jobs you really want and are well-suited for.
Pros and Cons of LinkedIn Easy Apply
While there are some pros of using LinkedIn Easy Apply (like it makes things easy!), there are also cons to consider before you start using the feature.
LinkedIn Easy Apply Pros
Streamlines the application process. You can easily apply for any job without having to jump to another website, create new accounts, or retype the information that's already on your resume or LinkedIn profile.
It's sometimes the only way to apply. While this is more fact than pro, the reality is that some companies use LinkedIn Easy Apply in lieu of an applicant tracking system or even email.
Apply from wherever. Positions at popular companies often get hundreds (or thousands!) of applications and companies may stop accepting new ones sooner rather than later. If you're on the bus or out with friends and get an alert, LinkedIn Easy Apply lets you submit your application quickly.
LinkedIn Easy Apply Cons
Hard to stand out. LinkedIn Easy Apply makes it easy to apply for jobs but makes it hard to create an application that stands out from the others. Nearly everything is pulled from your existing profile, which may not be the best information to share with the recruiter for this particular role.
Easy can mean "lots." One tricky thing about LinkedIn Easy Apply is that you're not the only one using it! While there can be a lot of competition for any job posting, LinkedIn Easy Apply means a specific posting may get more applications than those without the Easy Apply option.
No way to expand and explain. With rare exceptions (see below), there's no cover letter or other way to discuss your skills, abilities, and qualifications beyond your application. Unless you've got a standout resume and work history, the recruiter may not understand why you're the best person for the role.
How Should You Use LinkedIn Easy Apply?
While Easy Apply makes it easy for you to submit your application wherever you are, you may not get the results you're hoping for. And while you could decide you'll never use it, there may be times it's unavoidable. So, how can you use LinkedIn Easy Apply and increase the odds you're scheduled for an interview?
Update Your Profile
One of the first things a recruiter sees when you apply via LinkedIn Easy Apply is your LinkedIn profile. So, before beginning your job search, make sure your profile is accurate and up to date.
While your resume and LinkedIn profile should never be carbon copies, if you send in an updated resume without an updated LinkedIn profile, the recruiter may wonder why you only put in the work on what is essentially half of your application.
Include a Tailored Resume
"Since you can still upload a resume document with Easy Apply, you will want to make sure you are uploading one that is tailored for that specific job," says Work. It requires extra effort on your part (which may partially defeat the purpose of Easy Apply), but in the long run, it's worth it. "More often than not you are going to have the most success with fewer quality applications over more quantity of applications," explains Work.
>>MORE: Resume Keywords: What They Are and How to Use Them
Add a Note
Unless the recruiter specifically asks for a cover letter, you won't need one when applying via LinkedIn Easy Apply. But keep in mind that cover letters are another chance to set yourself apart from other candidates. So, look for opportunities to do just that. "If there is a spot for you to leave a note for the hiring manager or add any additional information about yourself on the Easy Apply application, be sure to include that as well! You still want to do what you can to stand out amongst the pool of applicants," says Work.
Got the interview? Get ready for it!
Image credit: alexeynovikov/Depositphotos.com