Even if you don't use it, you've probably heard of LinkedIn. With over 830 million members in more than 200 countries, it's easily the place for professionals around the world to meet and interact.
LinkedIn can help you reach your career goals, whatever they are. But getting started on and using LinkedIn to your advantage can be overwhelming. Not sure where to start? We've got you covered. In this guide, you'll learn how to use LinkedIn to help kick your career into high gear:
What Is LinkedIn?
In many respects, LinkedIn is a social media site that focuses on career topics (as opposed to personal topics like you might find on Facebook or TikTok). It's a place for professionals to connect, share, and learn more about each other and their respective fields.
However, as career advisor Laci Baker points out, LinkedIn can be so much more.
"Your LinkedIn profile can be used as an online, in-depth professional portfolio that houses your important accomplishments and allows those accomplishments to be found by potential employers. LinkedIn also acts as a direct link between you, hiring professionals, organizations, and people who do what you do or like to do."
What Is LinkedIn Used For?
So, LinkedIn is essentially a social media platform and portfolio site. But, what is LinkedIn used for and how can you best utilize it to help your job search and career?
LinkedIn can help you with:
Active job searches: when you're going after a new role
Passive job searches: when you're not actively looking for a job, but a recruiter reaches out to you about a new opportunity
Industry news: trends in your field that could impact what you do or how you do it
Breaking news: when something big happens that impacts all industries
LinkedIn is also a fantastic way to research companies you're interested in working for. As career coach Heather Starr notes, "It's a great idea to do as much research as possible before applying to a job. Current employees can provide valuable insight and help you determine whether it's wise to pursue a particular job."
Get noticed by top recruiters
Explore Forage's free virtual job simulation programs.​
Even if you aren't able to connect with employees, LinkedIn can help you learn more about companies you're applying to or want to work for. "You can follow companies to ensure you're up to date on recent happenings. You may be able to gauge a bit of the company's culture as well," notes Starr.
It's important to note that while you can use LinkedIn to learn more about companies, LinkedIn also helps potential employers learn more about you. As Baker says, "Your LinkedIn page [is often] the first thing that pops up" when people search for you online. This is especially true when you're actively looking for a job, but it's just as true when people are considering connecting with you.
And finally, think of LinkedIn as the extended version of your resume. As a rule, your resume is between one and two pages long, but sometimes that's not enough space for everything you want to include.
While there are character limits, you can include far more information on your LinkedIn page, allowing you to use your profile to expand beyond your resume and enhance your overall application.
>>MORE: How to Upload or Add Your Resume to LinkedIn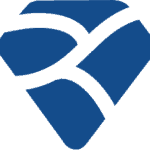 Forage Resume Writing Masterclass
Create a resume that gets you noticed with our free masterclass.
Avg. Time: 5 to 6 hours
Skills you'll build: Resume writing, identifying job titles, professional branding, summary, transferable skills, industry keywords, showcasing outcomes
How to Use LinkedIn
Because people turn to LinkedIn to learn more about your professional side, having a polished profile page can help you in your job search, when you're networking, and throughout your career.
Whether you already have a LinkedIn profile or are just getting started, here's how to fill out your LinkedIn profile sections to take advantage of all LinkedIn has to offer.
Headline
The headline is what appears under your name and on your profile preview. It's one of the first things people see, even if they never land on your profile page.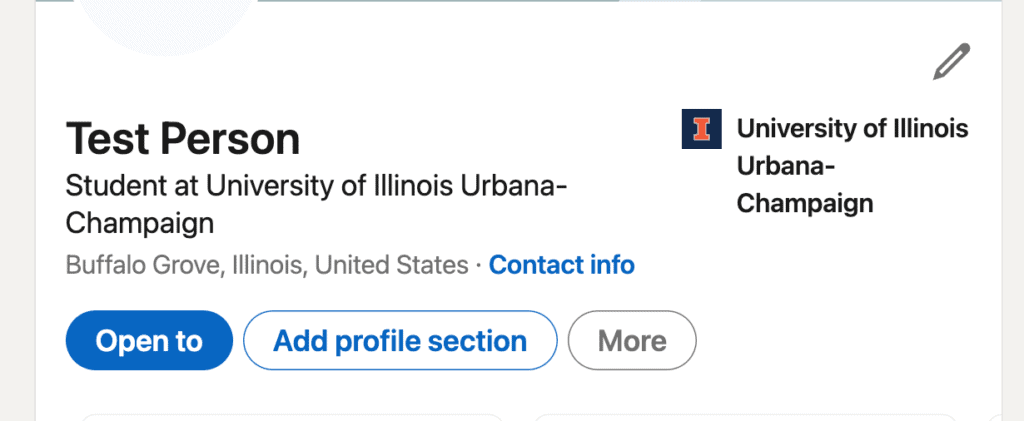 LinkedIn automatically generates one based on what's in your work history — it's your current or most recent job title and company. And there's nothing wrong with that headline. But because LinkedIn lets you put in whatever you want, swapping out the default in place of (or in addition to) your job title can help advance your career ambitions.
>>MORE: What Is Virtual Networking?
First, it's a great way to explain what you already do or what you want to do. Second, because your job title is already in the experience section, adding more information about what you do or can do for employers gives recruiters a deeper understanding of you as a professional.
A student headline could be:
Emerging [job title you hope to have, area of interest] Professional | Specializing in [degree or major] | Hoping to [where you want to work, what you want to do] | Anticipated Degree Date XXXX
Baker notes that it's crucial to include your anticipated graduation date as many recruiters use graduation dates when they search for new talent. Including your anticipated degree date helps your profile appear in their search results.
If you already have a job, you can include your job title and position as part of the headline, but take advantage of the space to give people a little more information about what you can do for them:
New Business Developer at [Company] | Helping companies connect with qualified new leads
To edit your headline, click the pencil icon on your profile (near your name and profile picture). That will pull up the "Edit Intro" screen, where you can update your name and headline.
The intro section is also where you can select preferred pronouns, add a pronunciation of your name, and include your industry, schools, and other information.
About
The next section you should focus on is the About section. Think of this as your professional summary or summary of qualifications. It's similar to the professional summary section on your resume, but on LinkedIn, you can make this section longer and more detailed.
>>MORE: Updating Your Profile on LinkedIn: Skills You Should (and Shouldn't) Add
The key to creating a stellar About section is making sure it doesn't repeat what's in your Experience section. It's where you include things that don't fit in your work history, or you can use it to expand on items from your Experience section that you want to devote extra attention to.
To add an About section to your profile, click "Add profile section," under the headline.
While you can type and edit directly in the field, consider writing, editing, and formatting your About section in another document. This will allow you to create easy-to-read bullet points and use special characters if you choose.
Experience
Next up is the Experience section, and it's formatted like a chronological resume. Your current or most recent job is first, then your next most recent job, and so on until you reach the beginning.
>>MORE: 7 Types of Resumes: Which Is Right for You?
To edit or update this section, click the "Add profile section" button then select "Add position." From here you can fill in as much or as little information about your job history as you want. Note that you have the option to share the information with your network or not. Simply toggle the switch to your preference.
No matter what kind of work experience you have, this is the section for it. And while full-time employment makes up a bulk of people's employment history, LinkedIn also lets you include several other job categories:
Part-time
Apprenticeship
Self-employed
Contract
Seasonal
So, even if your work history consists of part-time summer jobs and internships, you can include them on your profile.
Customize Your URL
When you create a LinkedIn profile, you're assigned a default URL, which includes random numbers. Here's an example:
www.linkedin.com/in/test-person-236a30249
While this URL gets the job done (people will find your page), it's long and kind of messy. There's a lot to copy and paste, and if you're putting the address into an applicant tracking system, you might accidentally cut off the last part of the address.
Fortunately, LinkedIn gives you the option to personalize your URL. While not necessary or required, you can transform your URL from a set of random numbers into something clean and professional looking.
To change yours, go to your profile page, and in the upper right corner, you'll see "Edit public profile & URL." Click that to go to the "Public profile settings" page. In the upper right (or scroll down the page if you're on mobile), you'll see "Edit your custom URL." Click the pencil icon, and you can change the last part of your LinkedIn profile URL to whatever you want.
Most people use their first and last names. If you have a common name, consider adding your middle name or initial to differentiate yours.
Additional Sections
Beyond these basics, you can include many other sections on your LinkedIn profile: Core, Recommended, and Additional.
Under Core, you'll find profile sections for your education and skills. While it's not required, many career experts recommend filling in the skills section. For starters, it's a way for you to highlight the hard and soft skills you possess. What's more, many recruiters search for specific skills and having them on your profile helps yours appear in search results.
Recommended sections are additional sections that LinkedIn suggests you add to your profile. These are:
Featured
Licenses and Certifications
Courses
Recommendations
These sections are great places to highlight things you've done in addition to work experience, like completing a virtual job simulation.
>>MORE: How to Add a Certificate on LinkedIn
Finally, the additional sections let you add items that round out your profile, like your publications or honors and awards you've received.
Profile Picture
The very top of your profile page is where your profile picture will go. To add or edit your picture, click the photo field (on the left of your profile page) to pull up the menu. From there you can add a new photo or edit your existing photo.
While you don't generally include a picture of yourself on your resume, you should consider including a profile picture on your LinkedIn page.
Research indicates that LinkedIn profiles with a picture get 21 times more profile views and nine times more connection requests. Those additional views and connection requests could help your career in ways you never imagined.
However, while 82% of hiring pros (HR, business owners, etc.) agree that you should not judge an applicant based on their profile picture, 70% admit that they've turned down an applicant due to their LinkedIn profile photo. Additionally, 38% admit they regularly turn down candidates who are well-qualified for the role because of their picture.
While there are many ways to ensure you've got a great-looking LinkedIn profile picture, bias (conscience and unconscious) is still a valid concern.
When you click your profile photo, you'll see a button that allows you to edit who can and cannot see your photo.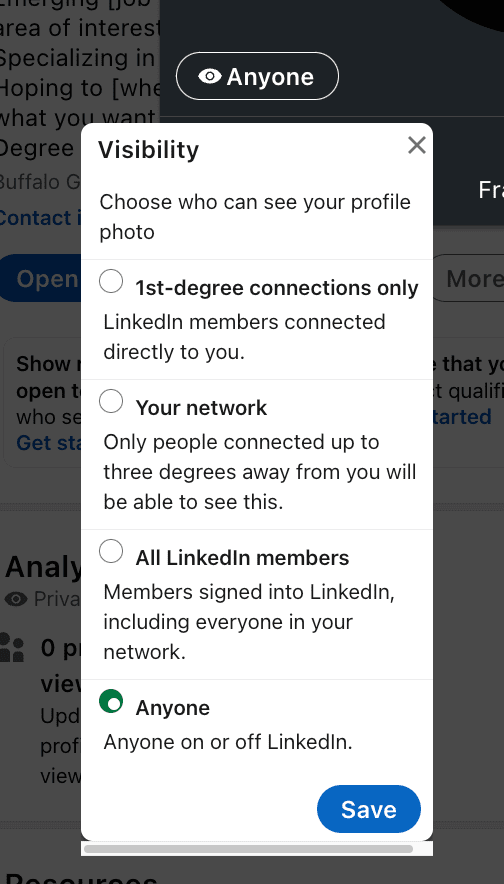 Click that button to choose one of four options:
1st-degree: Only people directly connected to you can see your photo.
Your network: People up to three degrees away from you can see your photo.
All LinkedIn members: Anyone signed into LinkedIn can see your photo.
Anyone: If your profile is set to public, anyone on or off LinkedIn can see your photo.
You also have the option of leaving the photo field blank. It's important to note that if you do include a profile picture, it has to be a picture of you. While you can use an edited image of yourself (like a cartoon version), you cannot use generic images, like a logo or a stock image.
>>MORE: View our list of 80 online job search resources, including AI tools, job application trackers, resume builders, salary databases, job boards, and more.
Image credit: AndrewLozovyi / Depositphotos.com