A resume is a summary of your professional journey. It explains what you've accomplished, where you've worked, and what you've learned. But have you ever thought about the different types of resumes and which one you should use?
If you didn't realize there are different resume types, you're in luck because this guide covers the ins and outs of resumes.
Top 3 Types of Resumes
The most commonly used resume types are chronological, combination, and functional. Though they follow different formats, each includes the same elements:
Name and contact information (always at the very top of the resume)
Work history (always starts with current or most recent job)
Education
These resumes have other elements in common, but they aren't always formatted the same way and resume sections may appear in different places on the page.
Chronological Resume
The most commonly used resume type is a chronological resume. It traces your work and educational history in reverse chronological order, just like on LinkedIn. The biggest reason why most job seekers use a chronological resume is recruiters are most familiar with it. They know exactly where to look for your work history, education, and so on.
>>MORE: How to Upload or Add Your Resume to LinkedIn
This matters because many hiring managers like to associate what you learned with where you learned it. Chronological resumes make it easy to do exactly that.
In the Work History or Experience section, list your jobs, starting with your current or most recent role, then work backward until you reach your first (or earliest relevant) job. Under each position, list your accomplishments as brief bullet points. After work history is your education, volunteer experience, and anything else you want to include.
Here's a sample chronological resume:
Functional Resume
A functional resume is probably the least used resume format. Generally, a functional resume is for people with a nontraditional work history or those who want to draw more attention to their skills and abilities than where they worked.
The problem with a functional resume, though, is they are tough to read. It's difficult for recruiters to tie what you learned with where you learned it. And though attitudes around career breaks are changing, functional resumes are often a red flag for hiring managers because traditionally, they were used to hide gaps in your work history.
The top third of your resume is the same as other resume types (contact information, summary). But after that section, you use a different format.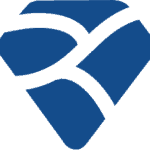 Resume Writing Masterclass
Master the art of resume writing. In this free course, you'll learn how to describe your professional abilities to hiring managers without the fluff.
Avg. Time: 5-6 hours
Skills you'll build: Professional branding, identifying job titles, transferable skills, resume keywords, showcasing outcomes
The next part is an extensive skills section where you group your skills by category. For example, you might have a category called "Communication Skills," then under that, list all of your communication skills. The next category might be "Technical Skills" where you list your technical abilities.
After the skills sections is your work history. However, instead of including bullet points of what you did at each job, you list only the name of the company, the dates you worked there, and your job title. You do this in reverse chronological order until the first (or earliest relevant) job, then include your education and any other sections.
Here's what a functional resume looks like:
Combination Resume
Also known as hybrid resumes, combination resumes are part chronological resume, and part functional resume. People often choose a combination resume because they follow a similar format to chronological resumes, making it easier for hiring managers to scan the resume and find the information they're looking for. But combination resumes also place more emphasis on your skills and abilities instead of your chronological work history.
The top third of the resume is your contact information and professional summary. After that, you include a skills section, similar to a functional resume. However, it's not as long or in-depth as a functional resume. You can group your skills by type or list them.
After the skills section is your work history. This is in reverse chronological order and includes several bullet points of your duties and accomplishments under each job to help tie what you learned to a specific job. You'll use fewer bullet points than a chronological resume, as you covered some of the information in the skills section.
Here's a sample combination resume:
Why These Resume Types Work
But why are these three types of resumes so common? Because they work, and here's why.
Easy to Read
In 2012, an eye-tracking study found that, on average, a hiring manager looks at a resume for just six seconds. The study was repeated in 2018 and found the average time spent looking at a resume had edged up to 7.4 seconds.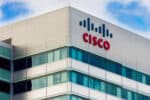 Career Readiness
Learn how Cisco employees approach and prioritize problems in this free course. Master critical skills you'll use in any and every job.
Avg. Time: 2-2.5 hours
Skills you'll build: Data analysis, project management, communication, data presentation, project planning
Researchers compared resumes to find out why the hiring managers spent more time on some resumes than others. They discovered that the resumes recruiters were more interested in shared certain elements, such as:
Simple layouts
Clearly marked sections
A professional summary or qualifications summary at the top
The study also concluded that the best-performing resumes were formatted to take advantage of F-pattern reading. In short, F-pattern reading is when a reader doesn't read the document in its entirety, but instead scans it, concentrating their attention on the top and one side of the page.
>>MORE: How to Write a Resume
Starting in the upper corner of the document, the reader scans side-to-side across the top of the document, then moves to the top third of the document for another horizontal scan. Finally, the reader scans down one side of the document in a solid line. The items in this F shape get the most attention or, at least, are where the reader is expecting to find the information they want. Interestingly, this pattern holds whether the language is read left to right or right to left. This is what it looks like: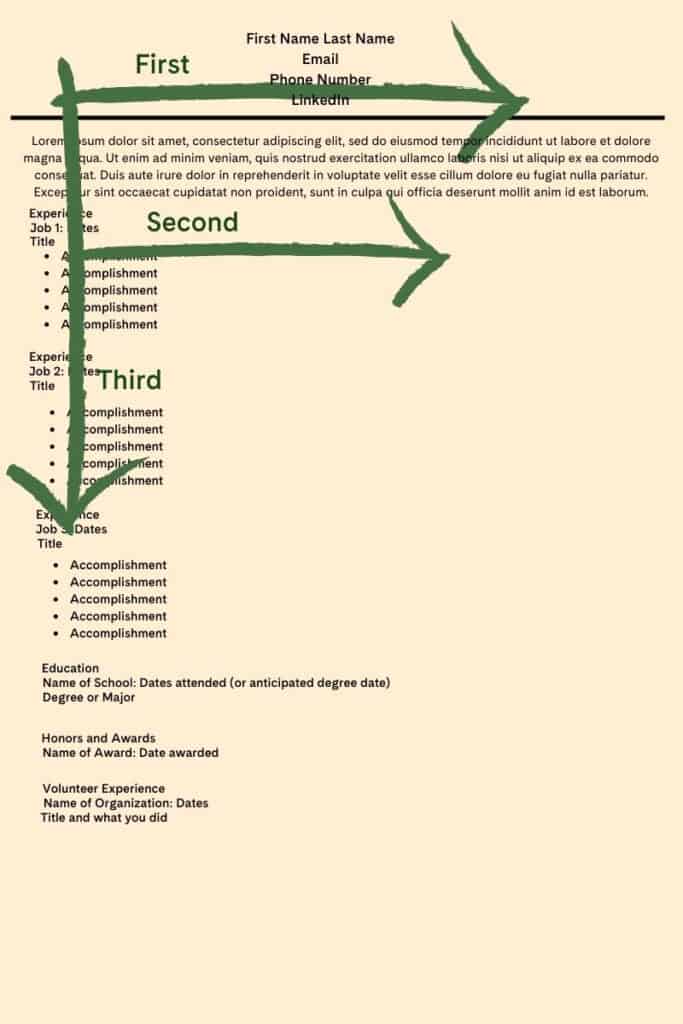 Chronological, combination, and functional resumes are formatted to take advantage of F-shaped reading patterns, so choosing one of them can increase the odds a recruiter spends more time looking at yours.
Other Types of Resumes
While chronological, combination, and functional are the three most common types of resumes, there are four other resume types you should know about and may want to consider using.
Targeted Resume
A targeted resume is tailored specifically for a company and role you're applying to. However, this name is a bit misleading in that every resume you submit should be customized to the company and role.
Fortunately, you don't have to write a targeted resume and cover letter from scratch every time you apply. You can take your existing resume (no matter the type) and include keywords from the job description in your resume and cover letter. It's also important to customize your resume by showcasing skills and experiences that align with the desired role.
>>MORE: Resume Keywords: What They Are and How to Use Them
Also include personalized tidbits in your cover letter, like what excites you about the company's mission or why you like their products. This personalization helps demonstrate that you're truly interested in the role, not just applying for any and every job you might be qualified for.
Profile Resume
A profile resume, or resume with profile, also has a slightly misleading name. A profile resume includes a "profile" at the top of your resume, which is a few brief sentences about your professional abilities.
Ultimately, this is another way of saying "professional summary" or "statement of qualifications," and the top three resume types usually include this information.
Infographic Resume
You may have seen resumes that include infographics or other creative elements. While these give your resume a unique look, we don't recommend using them. Nontraditional resumes (like an infographic one) can be hard to scan, meaning a recruiter may have difficulty reading yours. And while that won't necessarily land your application in the "no thanks" pile, you want to make it as easy as possible for the reader to understand why they should hire you.
Here's a sample infographic resume: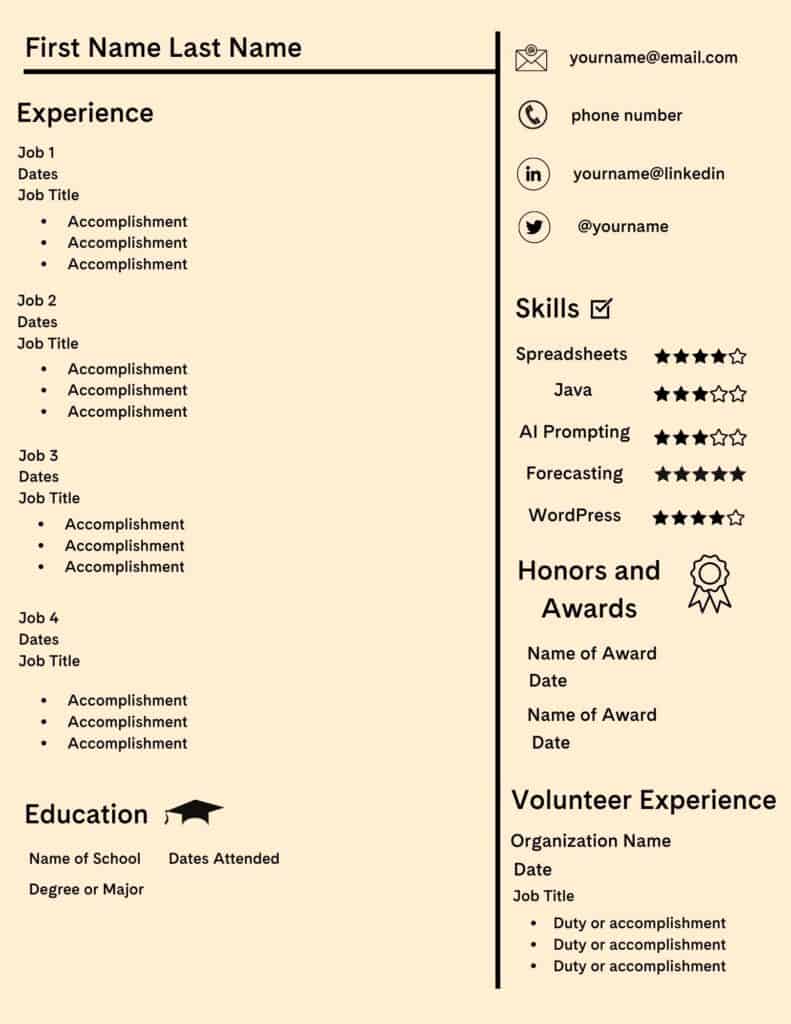 If you're applying for a creative role or want to use infographics as part of your application, direct people to your online portfolio to show them samples of your work.
Mini Resume
Finally, a mini resume is exactly what it sounds like: a small resume that fits on the back of a business card. But, instead of shrinking your entire resume down to an unreadable font size, pick a few key highlights you'd want someone to know about your professional abilities.
Here's a sample mini resume: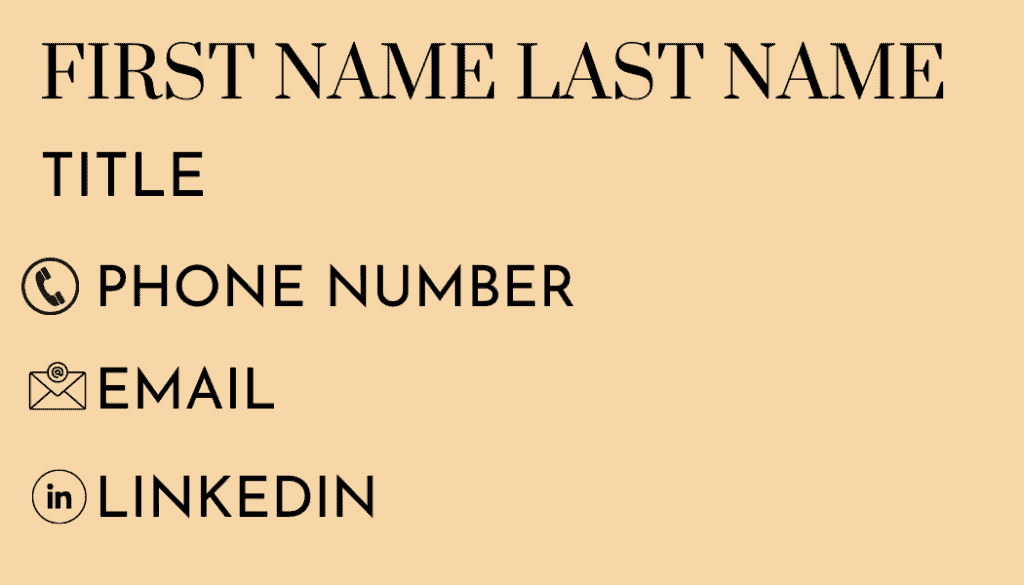 While a business card seems a bit old-school, you never know when you'll run into someone who can further your career plans. So, in addition to having a solid elevator pitch, giving that person something with your contact information and summary of your professional skills is a great way to help them remember you in a good way.
Frequently Asked Questions
Which format do most employers prefer for resumes?
In general, most employers prefer a chronological resume for two reasons. First, it's easier for a reader to scan. Second, a chronological resume helps the the recruiter or hiring manger connect the dots and quickly see where you learned which skills and how you used them in the job.
How do I know what type of resume to use?
The type of resume you should use is the one that best explains why you're the right person for the role. While that's usually a chronological or hybrid resume, there are times when a different format gets the job done.
What type of resume is best for applicant tracking systems (ATS)?
All of them! Contrary to myth, most ATSs can read any type of resume. That said, some resumes are easier for the ATS to parse (that's when the ATS scans your resume and auto-fills the fields for you) than others. When in doubt, a chronological or hybrid resume is your best bet!
What's a customized resume?
A customized resume is when your resume explains why you're perfect for this specific role. You don't have to rewrite your resume every time you apply for a job. For example, using keywords from the job posting that describe your accomplishments can help demonstrate how your abilities align with what the company is looking for.
What type of resumes should I use for an internship?
The resume that best explains why the company should hire you! While that's likely to be a chronological resume, a hybrid resume could work just as well.
Image Credit: AndreyPopov / Depositphotos.com