Your resume is a synopsis of your professional achievements and helps a hiring manager or recruiter understand why you're the best candidate for the job. And while your resume summarizes where you went to school, where you worked, and what you did, writing your resume is so much more than listing your job duties and what you studied.
Learning how to write a resume for a job means mastering the art of explaining what your skills and abilities are and how you'll use them to help the company achieve its goals. Writing a resume also includes things like proofreading and tailoring your resume to the job posting. It's a lot to cover, but this guide will get you on your way.
Lay the Groundwork
Writing a resume is a lot like building a house. Before you paint the walls, you have to build them. That process starts with a well-thought-out plan and a solid foundation. So, don't start worrying about what to put on a resume until you've laid out a plan and chosen the right framework.
Choose Your Resume Type
The first step is choosing a resume template that presents your skills and abilities in the best light possible — that's easy to read and makes sense.
For most job seekers, that means using one of these three formats:
Chronological: The most widely-used format, a chronological resume traces your work history from current (or most recent) position to oldest.
Functional: This resume emphasizes your skills over chronological work history.
Hybrid: Also known as a combination resume, a hybrid resume is part chronological and part functional.
And if none of these work for you, that's OK. There are a seven types of resume templates you can choose from. But if you're applying for a role in academia, keep in mind that none of these may work, and you might use a CV (curriculum vitae) instead.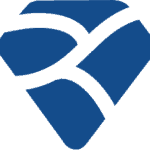 Resume Writing Masterclass
Master the tips and tricks of writing a resume that shines in our free Resume Writing Masterclass. You'll learn how to turn your duties into accomplishments and explain why you're the right person for the job.
Avg. Time: 5-6 hours
Skills you'll build: Professional summary, transferable skills, keywords, identifying job titles
---
How Many Pages Should a Resume Be?
As a rule, an entry-level job seeker's resume should be one page long. That said, if you have a lot of work experience or skills that are relevant to the role, you can have a two-page resume.
But what happens if your resume is more than one page but less than two?
You've got two options. First, you can edit ruthlessly and get your resume down to one page (without resorting to tricks like using a tiny font or making the margins super-slim). Second, you can consider expanding the second page by including more relevant content, and not using larger fonts or wider margins.
For example, if each role only has three bullet points of information, consider adding a few more relevant and informative points under each. Likewise, you can add in sections like awards or volunteer work if that's relevant to your situation.
But don't feel pressured to get exactly two pages. Senior recruiter Jonathan Harbison says a second page that's only three-quarters filled is fine. Focus on writing a resume that demonstrates you've got the skills the recruiter or hiring manager is looking for instead of worrying about how long or short your resume is.
Format Wisely
In most cases, you'll apply for an open role electronically, often through an applicant tracking system (ATS). These giant databases don't rate or rank your resume, but they are searchable by name, skill, and so forth. Some ATSs have trouble reading resumes that use unusual or hard-to-read fonts, columns, or graphic representations of your skills, making it less likely you'll show up in a recruiter search.
And whether you apply via an ATS or hand your resume to someone at the company, ultimately, a human recruiter reads your resume, and it's probably not the only one they're reading that day. Make it as easy on them as possible to read and comprehend yours.
Since you don't know if the person reading your resume will do so on screen or on paper, choose an easy-to-read font for your resume and stick with 11- or 12-point size to help reduce eye strain. This also makes it easier for the reader to scan your resume on the first pass.
Clearly label each section of your resume, so it's easy for the reader to jump to the information they're most interested in. You might use headers like, "Experience" or "Work History," "Education," "Skills," and so forth. And you'll want to format the headers so they jump out by using bold text or underlining. This way, the reader knows exactly where to look for the information they want.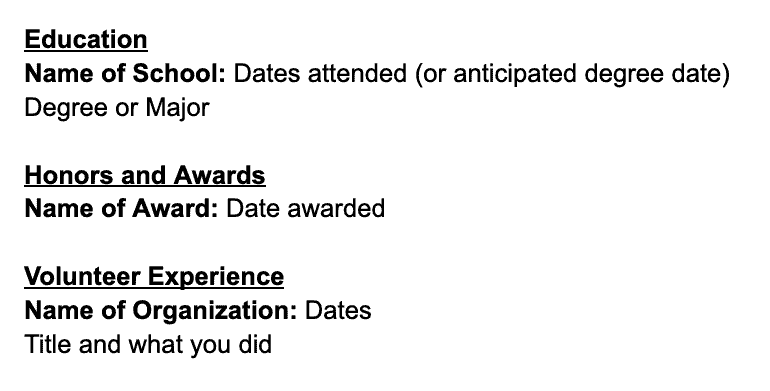 You'll also want to use bullet points instead of long blocks of text. While they use up more space and don't allow you to include as much information, bullet points are generally easier to read than long blocks of text. Plus, the use of "white space" around the bullet points can help reduce eye strain.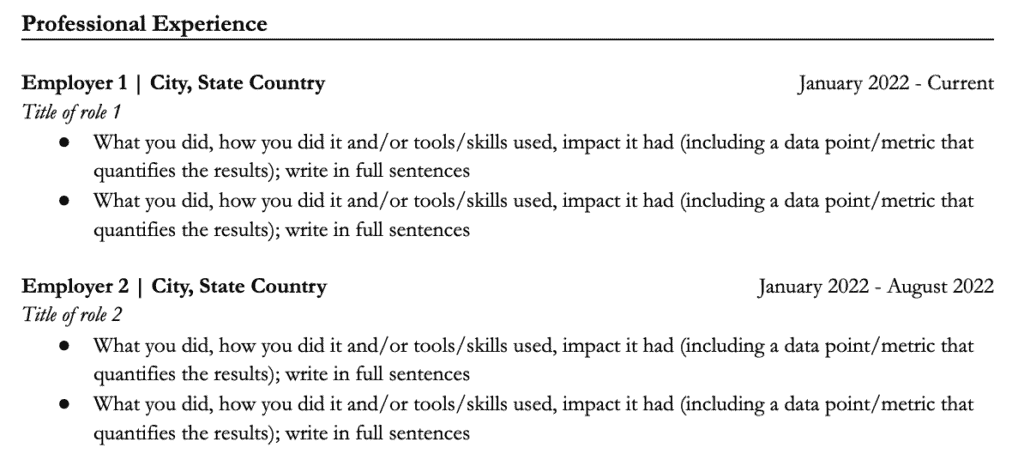 Finally, make sure you save your resume in multiple file types. Some companies only accept .pdfs, while others insist on .docs.
How to Write a Resume
With the style issues settled, you can move on to substance. These tips will help you understand how to write a good resume, no matter your situation.
Start With the Job Posting
Your resume summarizes your professional accomplishments and helps the interviewer see you've got what it takes to get the job done. But learning how to create a resume means understanding that writing it is not a one-and-done deal. While applying to multiple jobs with the same resume makes your life easier, it doesn't make it easier for you to get the job.
While these tips will help you create a solid resume template you can use over and over, you still need to customize it each and every time you apply to a job to illustrate how you'll use your skills in that role at that company.
What the heck does that mean?
Start by examining the job posting. Look it over and see what skills and job duties are at the top. These are likely the critical skills the company is looking for. Does the posting talk about project management skills or data analysis? Make sure you talk up those skills in your resume. Likewise, if the posting mentions collaboration and teamwork, highlight your abilities in those areas, too.
>>MORE: Resume Keywords: What They Are and How to Use Them
As you edit your resume, you can cut the things that are less relevant to these key areas. For example, while knowing HTML is an excellent skill, if it has nothing to do with the job and isn't mentioned in the job description, you can likely cut this from your resume if you need the space without hurting your chances of landing the interview.
While this is extra work (we won't deny it!) it's well worth the effort. Highlighting that you have the attributes the company is looking for will likely improve the chances you're invited to an interview.
Decide What Goes Where
Technically, you can put your resume in any order you want. There's no rule that says you have to start with your work history, then your education, and end with your volunteer work. However, this is the order most (if not all) recruiters and hiring managers are used to, which is why you may want to follow suit when you write your resume. Recruiters and hiring managers want to go to a part of the page and find what they're looking for, whether that's your work experience, degree, or volunteer positions.
Harbison also advises job seekers to list the most critical information first. In most cases, that's your work experience, so it should be near the top of your resume. As proud as you might be of being named volunteer of the year, unless it's critical to the role, it should go toward the bottom of your resume.
As Harbison points out, "A candidate has the attention of the resume reviewer for a limited amount of time," so it makes sense to make it as easy as possible for them to find whatever they're looking for and to put the most crucial information front and center.
>>MORE: How to Write a Resume for an Internship (With Template)
Include the Right Contact Information
Your contact information is, of course, how the recruiter will reach out and schedule you for an initial interview. You never know if that will be a phone interview, zoom interview, or in-person interview, so make sure the company has a few ways to get in touch with you and that the information is correct. A simple typo (like hitting the 1 instead of 2 or typing @gmial.com) could mean you never get an interview.
But when it comes to what to include in a resume, you don't have to include every bit of your personal contact information. For example, whether you're applying for a remote job or not, you only need to include your city and state (or country), not your street address. Your exact address is generally irrelevant to the role, and not including it helps protect you from doxxing or identity theft.
>>MORE: 10 Top Remote Jobs for College Students
Likewise, you should include one active phone number with voicemail set up that you check frequently. The same goes for an email address. And it's better to use a personal email address than a school one, as you may eventually lose access to your school email.
Summarize Your Qualifications
Up next is the qualifications statement, also known as a professional summary. This is a brief paragraph (meaning no more than a few sentences) that summarizes your relevant skills and abilities. Ideally, this should be just below your contact information. This puts this paragraph "above the fold," meaning a resume reviewer will likely look at it first.
The trick to writing a killer qualifications statement is highlighting your most important and relevant skills without repeating verbatim what you're using elsewhere (like in the work history). So, if you mention your coding skills in the qualifications summary, you should make sure that any coding skills mentioned in your work history are associated with specific examples of how you used those skills.
>>MORE: I Asked ChatGPT to Write Resumes, Including Mine. Here's What Happened.
However, space on a one- or even two-page resume is limited. So, if you need that space for something else, you can omit the professional summary. 
List Your Skills
Just below the qualifications statement is the skills section. This is a general list of your hard and soft skills that gives the reader a high-level overview of your skill set. You'll provide a few examples of how you use those skills on the job in the experience section..
In general, the skills section might look like this:
Kanban boards, conflict resolution, data analysis, project management
Your skills section may be longer or shorter depending on your background, but there's no "right amount" of skills to include. That said, you may not want to include every one of your skills in this section, either due to limited space or because the skill just isn't relevant to the role (like talking about your product designer skills when you're applying for a role as an accountant).
While you'll include the skills that are most relevant to the role, don't overlook your transferable skills. For example, a job posting may not specifically state they're looking for someone with excellent interpersonal skills, but hiring someone who can collaborate with others is likely integral to the company's success.
>>Learn more about including skills on your resume.
Talk About Your Experience
The next (and probably biggest) section is your work history or work experience.
In general, this is where you list where you worked, how long you worked there, what your job title (or titles) was, and what you did in the role. That sounds simple enough. However, to wow the recruiter and hiring manager, take the "what you did in the role" part to the next level. Instead of listing your duties, explain what you achieved and what that meant for the company.
A great way to do this is utilizing the STAR method. While commonly used to answer behavioral interview questions, you can also use the STAR method to quantify your achievements on a resume. Harbison explains:
"Quantifying an achievement is done by identifying a task, project, or assignment and listing a measurable outcome. Take an action word and add a specific task (including appropriate keywords). Include measurable outcomes and quantify the achievement. Here's an example:
Improved offer-to-hire ratio and candidate pipeline 45% by effectively using strategic process improvement initiatives and project management.
The action word is improved. The task is to use strategic process improvement and project management. The keywords are related to recruiting: offer-to-hire, candidate pipeline, process improvement, project management. And the outcome is to improve the offer-to-hire ratio and candidate pipeline by 45%."
While that's a big example, anyone can turn their duties into accomplishments. Here's another example.
Say you worked at the pool concession stand over the summer. Your tasks probably included things like serving food, making change, and taking out the garbage. You could say, "Transferred eight bags of trash to the dumpster every night as part of a rodent control plan," but you may want something that's more relevant to the job you're applying for now.
So, consider talking about what you did with the cash register and your customer interactions. While one skill set is related to hard skills and the other to soft skills, both are quantifiable but in different ways. Consider:
Balanced register drawer at the end of every shift to ensure ledger and receipts were accurate
Engaged with customers to take orders, receive payment, give correct change, and resolve concerns about service or food
Though these examples don't include numbers, they show how you contributed to the overall bottom line of the business by balancing the drawer and delighting customers.
Still not sure how to turn your tasks into quantifiable achievements? Harbison offers this exercise. "To stay sharp, I occasionally challenge myself to reword a simple task. 'I cut the grass so I wouldn't get grounded,' becomes, 'Seasonally manicured residential property biweekly or as instructed by upper management for eight years resulting in weekly compliments related to curb appeal enhancement and avoidance of negative consequences.'"
Include Your Education
As a rule, this section is limited to where you went to school, the dates you attended, and the degree you received or what you studied. That said, you may be wondering if you should include your GPA or other academic achievements.
"Include them only when it makes sense," says Harbison. "Remember, this information takes up valuable space on your resume and you need to make it all count. One thing to think about, will your GPA enhance or hinder your application?"
That said, sometimes employers ask for this information, so be prepared to include it.
Remember the Extras
Finally, if you have room at the bottom of your resume (or need to expand the second page), you can include any other sections you want. This can include things like internships, Forage's virtual job simulations, volunteering, or awards.
Each of these would go in a separate section, the exception being if you won an award from the place you volunteered with. So, the bottom section might look like this: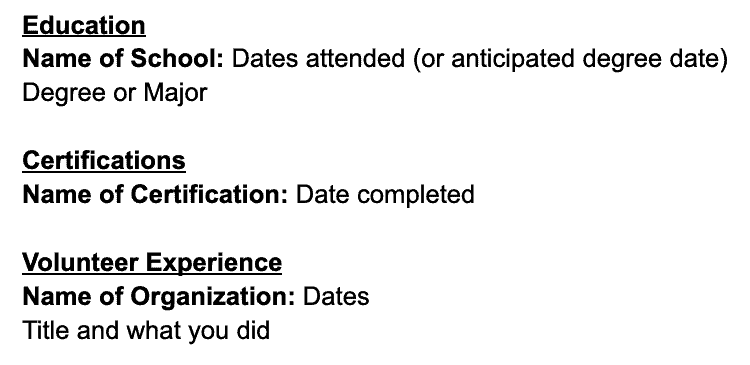 Last Step: Proofreading
With all that education, experience, and achievement on your resume, it seems like the hard work is over. And, it is — mostly.
The last step of writing your resume is proofreading. As noted above, one tiny typo could mean the recruiter never gets in touch with you. So, go over your resume with a fine tooth comb.
And don't rely on built-in spelling and grammar checkers for this task. They miss things! For example, if you type "Dear Hiring Manger," there's a chance the bot will miss it. Sometimes it takes a human eye to catch certain errors, so consider using a bot in conjunction with a human proofreader.
Have Someone Else Read It
Along those same lines, when you've finished the proofreading, consider having someone else read your resume. This step is totally optional (and should only include people you trust), but having a second (or third) set of eyes reviewing your resume can help you catch mistakes you may have missed and provide feedback on how well you're selling yourself to a potential employer.
Write a Resume That's Right for You
Writing a resume is equal parts following the rules and breaking them. On the one hand, following the rules, like starting with your work history followed by your education, helps a recruiter or hiring manager easily find what they're looking for and see why you're qualified for the role. On the other hand, you need to tailor the resume each time you apply and change up which of your qualifications you feature on your resume.
One other great way to help demonstrate you've got the skills for the job is by completing a Forage virtual job simulation. Not only will you develop practical skills that you'll use on the job, we'll give you a resume snippet that explains what you accomplished and some tips for talking about your experience in an interview.
---
Frequently Asked Questions
What goes on a resume?
You should include everything the employer needs to understand why they should hire you for the role on your resume. That's where you worked, what your accomplishments were, and how you helped the company achieve its goals. Keep in mind "work" can include a summer job, unpaid internship, and even volunteering.
What should I leave off a resume?
You should leave any personally identifying information (like your gender or age), confidential information (like your social security number), and anything that isn't relevant to the role of your resume.
Should I put my address on my resume?
You don't need your exact street address on your resume. This helps protect you from identity theft. You can include your city and state, so the employer knows where you're located. You can also include your country if you're applying for a role based outside your current country.
What are good skills to put on a resume?
The best skills to put on a resume are ones that are relevant to the role! Read over the job posting and take note of what the duties and tasks are as well as anything an employer specifically mentions. Highlight your skills that best fit what the employer is looking for.
What are resume keywords?
You can find resume keywords in the job description. They are the skills and abilities the employer is looking for. That can be hard skills (data analysis), soft skills (conflict resolution), or experience with something specific (like PowerBI).
Should my resume be the same as my LinkedIn profile?
Nope! Your LinkedIn profile should support your resume and vice versa. Because space on your LinkedIn profile is virtually unlimited, think of it as the "expanded" version of your resume. It's a great place for all the things you'd like to include on your resume, but can't.
Image credit: Canva