A CFA (chartered financial analyst) is a finance professional who analyzes companies' financial data and stock prices to make meaningful predictions about future performance. CPAs (certified public accountants) are often responsible for compiling the financial data CFAs then analyze. Choosing between a CFA vs. CPA certification can be difficult — both are highly respected signifiers of expertise in the finance industry and can be great ways to make yourself more marketable to employers.
What Is a CFA?
A CFA is a chartered financial analyst — a finance professional who has received a certification through the CFA Institute. This certification shows the analyst deeply understands economics, financial analysis, investing ethics, and investment management.
One of the key responsibilities of a financial analyst is a process called discounting.
CFAs need to "generate estimates of the present value of future cash flows," says John Cunnison, CFA, chief investment officer at Baker Boyer. Discounting allows analysts to "determine what those estimated future cash flows are worth today."
In a practical setting, discounting helps analysts figure out if "a stock price is too high or two low, and it's a skill that can be used to determine which project a company should invest in next," adds Cunnison. A CFA certification teaches analysts how to discount cash flows and make financial models.
Many different roles in finance can benefit from CFA certifications. Investment bankers, portfolio managers, accountants, and risk analysts commonly obtain CFAs to make themselves more marketable and to improve their analytical skills.
>>MORE: Explore the broader differences between financial analysts and accountants. 
JPMorgan Corporate Analyst Development Program
Explore analytics, project management, and process improvement with this free job simulation from JPMorgan.
Avg. Time: 4.25 to 5.75 hrs
Skills you'll build: Excel, data analysis, communication, Tableau, data visualization, process mapping, project management
What Is a CPA?
A CPA is a certified public accountant — a specific type of accountant who has passed the CPA exams administered by each state's Board of Accountancy and the National Association of State Boards of Accountancy (NASBA). Public accountants, as opposed to private accountants, typically work for large accounting firms and perform accounting duties for multiple client companies. Private accountants (who can also hold CPA licenses!) work for a single business and only perform accounting tasks for their employer.
"CPAs have the authority to perform audits, reviews and other assurance engagements," says Kathryn Kaminsky, vice chair and U.S. Trust Solutions co-leader at PwC. "They can provide an individual assessment of an organization's financial statements and compliance with accounting standards and provide assurance to stakeholders on the accuracy and reliability of financial statements."
CPAs also handle tax forms and perform audits for publicly traded companies because all public companies are required by the U.S. Securities and Exchange Commission (SEC) to undergo periodic external audits.
However, "accounting is about more than just a financial statement audit," says Kaminsky. "As stakeholders demand more transparency from businesses, CPAs are well-positioned to provide assurance over non-financial information as well."
>>MORE: Learn how to choose an accounting career path.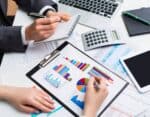 Chartered Accountants ANZ Accounting and Business Performance
Practice making complex business decisions using financial data with this free job simulation.
Avg. Time: 3 to 4.5 hours
Skills you'll build: Profit and loss, competitor analysis, pricing structures, business modeling, research
CPA vs. CFA Salaries
The U.S. Bureau of Labor Statistics (BLS) reports that financial and investment analysts make an average annual salary of $108,790. However, CFAs are a specific type of financial analyst, and having a specialized credential often leads to higher pay. In addition to base salary, CFA holders often receive additional compensation in the form of commission, stock shares, and performance or annual bonuses. 
According to the BLS, accountants and auditors earn an average salary of $86,740. However, while all CPAs are accountants, not all accountants are CPAs. The Accounting Institute for Success reports that the average CPA salary is $62,410, but this is averaged across all industries, companies, locations, and experience levels. Experience level plays a vital role in both CFA and CPA salaries. 
| Experience Level | CFA | CPA |
| --- | --- | --- |
| Early Career (<1 Year Experience) | $106,200 | $84,100 |
| Average for All Experience Levels | $125,300 | $98,800 |
| Experienced (>15 Years Experience) | $192,200 | $169,700 |
Estimates sourced from Glassdoor and rounded to the nearest hundred. 
Find your career fit
Discover if this is the right career path for you with a free Forage job simulation.
How to Become a CFA vs. CPA
CPA vs. CFA Certification Requirements 
The requirements for CFA certification include:
Have or be working toward a bachelor's degree or have at least 4,000 combined hours of higher education and relevant work experience
Pay an enrollment fee and registration fees for each exam
Pass the three CFA exams
The CFA exams cover asset valuation, portfolio and investment management, financial reporting and analysis, and quantitative analysis.
The CPA license requirements are:
Have a bachelor's degree or higher with 150 credit hours of relevant coursework
Pay an application fee and fees for each subject-matter test
Pass the four CPA test sections
The CPA tests include auditing and attestation, business environment and concepts, financial accounting and reporting, and regulation and ethics.
CPAs and CFAs can seek additional certifications, too. For example, a CPA may also choose to gain a certified management accountant (CMA) designation to show leadership and financial planning skills. 
JPMorgan Global Finance and Business Management
Learn the fundamentals of financial data analysis with this free job simulation from JPMorgan.
Avg. Time: 4 to 5 hours
Skills you'll build: Excel, data analysis, communication, pivot tables, data visualization
Education
For CFAs, having a solid foundation in finance and business can make passing the exams easier, and most analysts choose to study finance, economics, business, or accounting. However, having a different background can give you a different skill set. For example, a degree in data science can show high-level quantitative analysis skills, which is vital for CFAs.
"Majoring in accounting is not always required to become an accountant," says Kaminsky. "Take me, for example. I have a history degree!"
However, like CFAs, a background in accounting or finance does make passing the exams easier. Additionally, many CPAs and CFAs go for advanced degrees like a master of business administration (MBA) since it can help them meet the exam's education requirements and make them more marketable to employers.
Skills
Both CPAs and CFAs need to be able to read, review, and analyze financial data and find meaningful insights from that information. To do this, they need skills like:
CPAs specifically need to understand the generally accepted accounting principles (GAAP) and other accounting-related concepts such as:
>>MORE: Check out more skills accountants need on their resumes.
CFAs must have financial modeling and predicting skills, like:
Bottom Line: What's the Difference?
In the finance industry, having a CPA or CFA certification is highly respected — these designations show commitment, dedication, and expertise. Both titles are great options for anyone entering a career in finance.
While CFAs primarily analyze financial data, CPAs often compile that financial data, making analysis possible. Ultimately, both are necessary for accurate and insightful financial analysis and decision-making. 
Explore these careers in-depth and learn valuable skills employers want with Forage's free job simulations. 
Image credit: Canva