Organizations in many industries use business consulting services to help them solve problems, improve efficiencies, and grow their ventures.
Business consultants partner with companies and small businesses to identify obstacles a company faces in reaching its goals. These consultants are responsible for determining out-of-the-box strategies to help companies overcome their challenges.
Ready to learn more about business consulting? In this guide, we'll cover the following:
Overview of Business Consulting
A career providing business consulting services relies on the ability to plan and organize, as well as creativity and strategic thinking to help business owners and companies troubleshoot and problem-solve.
"Business consulting involves providing expert advice and guidance to organizations to help them improve their operations, achieve their goals, and solve complex business problems," says Michael Tschudy, founder and CEO of David Edward Business Solutions, a consulting firm for small businesses focusing on financial and operational optimization.
Why would a company seek business consulting services? One reason is cost-savings, as hiring a consultant with specific expertise in solving common business bottlenecks can be much more economical than hiring a full-time staff member.
Business consulting services include anything from strategic planning, financial management, and marketing to operations management, IT, and organizational development.
Find your fit
Learn new skills and explore what it's like to work as a consultant at top companies with Forage's free consulting job simulations.
Business Consulting vs. Management Consulting
Management consulting and business consulting are both types of consulting services but with slightly different goals.
Business consulting relates primarily to helping organizations solve process-related problems related to operational processes like production or finance. Management consulting, on the other hand, often involves risk management and focuses more on helping an organization's senior management team plan during times of transition and change.
>>MORE: Learn new skills and explore a day in the life of a management consultant with PwC's free Management Consulting job simulation.
Business Consulting Industries
Business consultants can work in a wide variety of industries. The most common of these, according to Tschudy, are industries with a high level of complexity, change, and competition, where organizations need to adapt and improve to stay competitive constantly.
"Business consultants work in every industry, as the need for real world expertise and perspective is universal," explains Vince Burruano, an independent business consultant and president of Vince Burruano Consulting Services, LLC. "This includes nonprofits, government, non-governmental agencies, and nearly any other form of organization that operates to generate a profit or some other mission. Anywhere where an organization wants to realize a specific set of outcomes, who is struggling to achieve these goals, would benefit from engaging a consultant to help them."
Some typical industries that seek business consulting services include:
Retail
Manufacturing
Energy and environment
Public sector
How to Get Into a Business Consulting Career
According to the U.S. Bureau of Labor Statistics, employment growth for management analysts, a category that includes business consulting, is projected to increase by 11% between 2021 and 2031. This equates to nearly 102,000 new job openings each year — which is good news for aspiring consultants. But what's the best way to prepare for a business consulting career?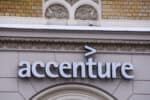 Accenture Consultant Program
Get experience working on a real-world project and build your consulting skills with this free job simulation.
Avg. Time: 4-5 hours
Skills you'll build: prioritizing client needs, assembling a project plan, data analysis, assessing feedback, client communication, strategic thinking
Education and Training
One traditional road to a business consulting career involves earning a bachelor's degree in business, social sciences, or engineering. Some business consultants also go on to get an MBA. But other types of training and experience can help you get started in the field.
"While having completed college and perhaps post-graduate work is valuable, it is much more important to have acquired real world experience and expertise," Burruano says. "You must be able to provide a unique perspective to help see what the client who has hired you either cannot see on their own, or lacks the necessary bandwidth to act on that perspective. For this reason, you need to determine what specific expertise and perspective you can offer others that would be of value."
Burruano points out that there are generally two types of consulting organizations: a firm with employees and staff and solo practitioners. As a result, there are multiple ways to enter the profession, depending on where you are in your career path. "Some see consulting as a way to transition from being an employee to being on their own and determining how much they want to work — or, at least, fewer working hours per week," he says.
Skills for Business Consulting
To succeed in business consulting, it helps to have the right combination of hard and soft skills. Essential hard skills include: 
Knowledge of business processes
Technical expertise
Business writing
Some key soft skills include:
Critical thinking
Organizational
Executive presence
Burruano believes that in terms of soft skills, the biggest factor in an aspiring business consultant's success is having a business development mindset. "You must always be working to cultivate new opportunities, especially when you are a sole practitioner," he says. "If you are not working to secure the next opportunity, who else will be responsible?"
He adds that if you decide to work for a consulting firm, while you may find they employ marketing and business development professionals to find new opportunities, it will still be your responsibility to foster that first engagement into an ongoing relationship. "A consultant must turn a customer, who buys the first time, into a client, who buys again and again," Burruano explains.
>>MORE: Top 15 Consulting Firms of 2023
Pros and Cons of Working in Business Consulting
Still wondering if business consulting is a good fit for you? It's wise to dig deeper into the potential benefits and drawbacks of being a business consultant. These are some of the pros and cons of this career, according to industry experts.
Pros
Exposure to Diverse Industries and Clients
Because so many different types of industries need business consultants, people who work in this field have the opportunity to focus on a wide range of industries and types of clients.
"If you revel in diverse work experiences, being a consultant is a great way to work with a diverse range of people and organizations on a host of different projects," Burruano says.
Intellectual Stimulation and Problem-Solving
Business consulting is all about strategic problem-solving, which can be intellectually stimulating.
"I thrive in this type of environment, and those who like variance in their work and projects will be well-suited," says Jacques du Toit, an independent business consultant who regularly advises smaller entrepreneurs regarding their business ventures in addition to his role as finance and operations director at ZAHomes. 
Skills Development and Career Growth
Consulting can accelerate your professional development by exposing you to varioius projects, industries, and situations. "This experience can help you build a strong skill set and make you more marketable for future opportunities," du Toit says.
Opportunity to Work for Yourself
Burruano feels that one of the biggest pros of being a business consultant is the opportunity to work for yourself if you become a sole practitioner. "You can now dictate your own schedule and determine which projects you will take on," he says.
Competitive Compensation
The biggest draw for du Toit was the salary that business consultants could make. Payscale reports that total pay for business consultants in the U.S. can go as high as $140,000, but if you work for yourself, the sky's the limit.
"My hourly rate as a consultant is orders of magnitude higher than what I could earn, for example, as a senior accountant or IT professional," du Toit says. "Consulting firms often offer competitive salaries and benefits packages, particularly for those working at top-tier firms or in specialized areas."
Cons
Long Hours and High Pressure
Consulting work can be demanding, often requiring long hours, tight deadlines, and high expectations from clients and firms. du Toit explains this can lead to a challenging work-life balance and potential burnout. "I often find myself constantly working and the need to impose limits, especially in our new work-from-home global environment," he says.
Client-Driven Priorities
As a business consultant, your primary responsibility is to address the needs and priorities of your clients. "These may not always align with your personal interests or values," du Toit says. 
Job Uncertainty
The nature of consulting work can be project-based, which may result in periods of uncertainty or job instability, particularly during economic downturns. "I advise consultants who go it solo to at least get two or more clients before diving head first into becoming a consultant," notes du Toit. 
Limited Control Over Projects
Business consultants often have limited control over the projects they're assigned, which can lead to them working on projects they aren't passionate about. "I luckily do have the freedom to say no to certain projects, but often we do not," du Toit says. "With more clients comes that freedom."
High Competition
The consulting industry is highly competitive, with many talented professionals vying for limited positions, especially at top-tier firms. "This can make it challenging to break into the industry and to advance within it," du Toit concludes.
Love the strategic side of business consulting? Check out strategy consulting as a career and learn how to become a strategy consultant.
Image credit: IgorVetushko / Depositphotos.com