Strategy consulting involves helping businesses come up with strategic plans for various processes. Strategy consultants generally work with C-suite executives and high-level managers to understand and provide recommendations for a company's goals and objectives.
Ready to learn more about this prestigious industry? In this guide, we cover:
Strategy Consulting Definition and Types
Strategy consulting is the process of advising companies on important business decisions by providing strategic advice. It generally includes researching and analyzing issues, identifying challenges and opportunities, and making recommendations.
Although companies may use strategy consulting for nearly any business decision or process, the eight main disciplines are:
Business Model Transformation (BMI)
Corporate Strategy
Digital Strategy
Economic Policy
Functional Strategy
Mergers and Acquisitions (M&A)
Organization Strategy
Strategy and Operations
Within these categories are numerous project possibilities, from restructuring operations and determining best practices to building brand awareness and developing market entry plans.
>>>MORE: Want to learn more about strategy consulting? Check out Forage's virtual experience programs at Accenture and BCG to learn about a day in the life of a strategy consultant at a big firm.
Strategy Consulting vs. Management Consulting
Strategy consulting is a type of management consulting, with strategic consulting focusing more on specific goals and management consulting focusing on overall company performance.
"Many people use the terms interchangeably," explains Alastair McKee, global business strategy and operations manager at Google and a Forage content development partner. "But strategy consulting is a subset of management consulting focused specifically on helping a company go from A to B on a particular issue, rather than looking holistically at the business as a whole."
When hiring strategy consultants, businesses are looking for large-scale directional changes that are often highly revenue-focused. The shifts usually begin upstream with the CEO and provide a defining direction for the future. Questions associated with strategic consulting include:
What do we have to do?
Why do we have to do it?
With management consulting, the work is more about internal strategy. Management consulting often focuses on implementation, and many changes happen downstream in the organization. Relevant questions include:
How and when should we do it?
Who is going to do it?
For instance, a company facing several issues across the organization may seek out management consulting services to help it identify and rectify problems the company is facing overall. A strategy consultant, on the other hand, would address specific management issues by coming up with targeted strategies.
>>MORE: BCG Introduction to Strategy Consulting Virtual Experience Program
Why Strategy Consulting?
The global strategy consulting market is estimated to reach $101.75 billion by 2025 — an increase of more than $46 billion since 2019. As companies prioritize increasing productivity and decreasing costs, strategy consulting will likely continue to be an essential component of the professional services industry, with many potential benefits for companies.
"There are a number of ways hiring strategy consultants can benefit a business," says McKee, also a former consultant at Bain & Company. "For one, many organizations struggle to think about where to go and how to get there when their people are busy actually running the business."
McKee notes that companies hire strategy consultants because they've worked on similar issues across industries and have proven they know how to solve problems.
"Their ability to introduce frameworks, structure, and best practices to ambiguous situations, their third-party objectivity, and also to validate a company's own management team's strategy before investing significant resources" can all benefit a business, McKee continues.
Other advantages for companies include:
Unbiased perspective: Company employees and board members are often too close to the issues to see a way out. Strategy consulting provides an outside perspective and enables leaders to get an honest assessment of their processes and goals without potential conflicts of interest getting in the way.
New ideas: Strategy consultants bring a wealth of experience and knowledge that can lead to fresh, out-of-the-box ideas for a company's growth and success.
Fast results: With established plans and a results-oriented approach, business strategy consultants focus on getting the job done without getting distracted by other priorities and initiatives.
Industry Outlook
Although strategy consulting is uniquely beneficial for companies, McKee explains that technology can pose a threat to the industry, particularly as AI gets better at gathering and analyzing data. "Of course, the firms will continue to evolve to try and keep up with the times," he says, with some firms "investing in digital capabilities, often buying up smaller, more specialized firms."
For example, consulting firm McKinsey & Company acquired QuantumBlack AI to blend AI and technology with strategic thinking and expertise. In this way, technology can combine with consultants' extensive knowledge to help strategy consulting firms stay relevant in the coming years.
The key is having the right experts in place to turn data into actionable strategies. "I think firms will have to hire more expert practitioners, as well as retain people growing through the firms, to best serve the needs of tech-native companies," McKee says.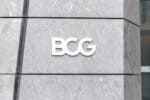 BCG Strategy Consulting
Experience a day in the life of a strategic consultant at BCG with this free Forage job simulation.
Avg. Time: 5 to 6 hours
Skills you'll build: Market research, Excel, PowerPoint, stakeholder management, critical thinking
Top Strategy Consulting Firms
While many management consulting firms include strategic consulting in their service offerings, there are "pure-play" firms that exclusively offer this service. The three largest and most prestigious strategy consulting firms (also known as "MBB" or the "Big Three") are:
McKinsey & Company
Bain & Company
The Big Four professional services firms primarily offer accounting and advisory services and focus on implementation, but also provide strategy consulting:
How to Get Into Strategy Consulting
As with most consulting careers, getting into strategy consulting requires both education and experience. Strategic consulting is often considered the most prestigious consulting branch and can be a lucrative career for those willing to put in the time. To become a strategy consultant, consider following this general education and career path:
During your undergraduate studies, plan on getting a business-related degree or taking various business courses to set the foundation for acquiring relevant knowledge and expertise.
Most consulting firms prefer candidates with advanced degrees, so think about also pursuing an MBA.
Look for consulting internships and other opportunities to gain work experience throughout your undergraduate and graduate studies and as you search for a job.
If you're interested in exploring a variety of consultant careers and curious about working at a well-known consulting firm, check out Forage's consulting virtual experience programs.
Image credit: nd3000 / Depositphotos.com