Businesses rely on both accountants and auditors to create and review financial statements. The main difference between accountants vs. auditors is accountants focus on compiling financial data and crafting reports. On the other hand, auditors review financial information to ensure accuracy and compliance with regulations.
What Do Accountants Do?
An accountant manages financial data, but that job can include a variety of tasks, such as revising budgets, tracking sales performance, and mapping financial plans and goals.
"A typical workday would include regular team meetings, reviewing and analyzing financial data, and preparing a workpaper or deliverable to share with management or stakeholders," says Arianna Washington, CPA and senior associate at PwC.
There are a few different types of accountants:
Certified public accountants (CPAs) are credentialed professionals who often work for accounting firms, reviewing financial data for governments, large corporations, and institutions.
Private accountants usually work in-house at a company managing the finances for their employer.
Certified management accountants (CMAs) focus on making business decisions based on financial data, like strategic financial planning for an organization.
Auditors are also a type of accountant!
Ultimately, accountants can work in nearly any industry. For example, because public accountants handle accounting tasks for various client companies and institutions, they can be involved in a wide range of industries.
"In my three and half years at PwC, I've had the opportunity to work on engagements with several different companies that span across the health, oil and gas, aerospace, banking and financial services, and entertainment industries," says Washington.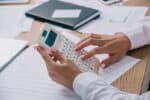 Chartered Accountants ANZ Accounting and Business Performance
Learn fundamental accounting skills you need to make complex financial decisions with this free job simulation.
Avg. Time: 3 to 4.5 hours
Skills you'll build: Profit and loss, competitor analysis, pricing structure, business modeling, research
What Do Auditors Do?
As a type of accountant, auditors also work closely with financial data. However, an auditor is primarily a fact-checker — they review financial statements and reports to check for accuracy, completeness, and compliance. The process of reviewing these statements is called auditing.
Some tasks an auditor may handle include:
Checking that companies' statements meet local, state, and federal tax regulations
Ensuring transactions are recorded properly
Identifying fraud
Advising clients on ways to improve their reporting and recording processes
Auditors may work internally for a company reviewing statements and processes for their employer. Or, an auditor can work at an accounting firm, like KPMG, advising government, corporate, and institutional clients. 
JPMorgan Internal Audit Analyst
Experience auditing business practices, risk, and governance with JPMorgan's free job simulation.
Avg. Time: 5 hours
Skills you'll build: Communication, analysis, attention to detail, fieldwork, accuracy, auditing, reporting
Auditor vs. Accountant Salaries
The U.S. Bureau of Labor Statistics (BLS) combines auditor and accountant salaries since auditors are essentially a subset of accountants. According to BLS data, accountants and auditors have an average annual salary of $86,740. However, it's important to remember that compensation can vary greatly depending on the company, location, and experience level.
Using pay estimates from Glassdoor, we can see how experience level affects both auditors and accountants. Although these two career paths are closely related, their specialized skills result in salary differences.
| Experience Level | Auditor | Accountant |
| --- | --- | --- |
| Early Career (<1 Year Experience) | $54,700 | $55,300 |
| Average for All Experience Levels | $56,400 | $58,800 |
| Experienced (>15 Years Experience) | $101,700 | $93,516 |
Estimates sourced from Glassdoor and rounded to the nearest hundred. 
>>MORE: Explore some of the highest-paying jobs in finance.
How to Become an Accountant vs. Auditor
Education
You typically need at least a bachelor's degree to become an accountant or an auditor. Some schools offer specialized programs in accounting and auditing, but you don't need a specific major for these careers. Coursework in finance, business, economics, or related fields can give you a great foundation in math and business structures.
Many accountants and auditors seek out master's degrees because an advanced degree can make them more marketable and help with passing exams for certain certifications, like the CPA exam.
>>MORE: Learn how to choose an accounting career path.
Certifications
If your goal is to work at a major accounting firm, like EY or Deloitte, you'll need a CPA license. Both auditors and accountants can benefit from this certification, though.
Washington notes that she's seen benefits from pursuing a CPA license, including "being considered for leadership roles, higher salaries, flexibility in changing industries or roles and securing your career."
Accountants have other certification options, too, such as the CMA designation for working in a more managerial and strategic accounting position.
Showcase new skills
Build the confidence and practical skills that employers are looking for with Forage's free job simulations.
Skills
Successful accountants and auditors need hard skills like:
"There are also human skills that are important in accounting, including written and verbal communication, critical thinking, problem-solving and time management," says Washington.
An auditor also needs a deep understanding of the audit process, while accountants need to know specific formulas, like the accounting equation.
>>MORE: Explore the skills accountants need on their resumes.
Bottom Line: What's the Difference?
Auditors and accountants have a lot of overlap in their skills and knowledge, and both careers are vital for businesses and government institutions. These financial specialists both work to ensure records are complete and accurate.
Accountants and auditors can both work in nearly any industry, including public accounting firms. These are growing jobs, too. According to the BLS, employment of accountants and auditors is expected to grow 6% between 2021 and 2031.
To break into accounting and auditing professions, Washington advises seeking mentors and networking: "Networking is so valuable in this industry and beyond and can really help you identify your own path and prepare properly."
Build the skills you need to get hired with Forage's free job simulations.
Image credit: Canva